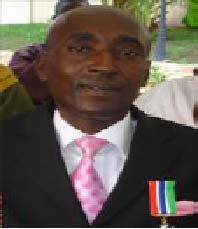 The state prosecutors in a bit to prove in a 3-year-old girl rape case, filed against one Alpha Jallow at the Special Criminal Court Division of the High Court yesterday called two more witnesses.
The latest witnesses to be called were Cpl Abdoulie Jallow attached to the Barra Police Station and Jawor Keita of the Major Crime Unit at the Police Headquarters.
Testifying earlier before Justice Moses Richard, Cpl 1295 Abdoulie Jallow attached to Barra Police Station told the court that he knows the accused Alpha Jallow and can fully recall on 23rd March 2009.
According to him, he was on duty at the Barra Police Station on the day in question when the accused was brought in by one Amadou Sowe for allegedly raping a juvenile. He said all the necessary entries were recorded in the station dairy before he started cautioning the accused who offered to make a statement. He said after obtaining the statement both of them signed it.
Cpl Jallow further explained that, the accused told him that he was at a car park, when he was met by Amadou Sowe who asked him whether he could recall the day he went to his shop, and in response the accused answered in the affirmative.
The cautionary statement was later tendered in court as an exhibit.
According to him, he was made to understand that an identification parade was conducted. He said he was not the investigating police officer (IPO) in the case.
Also testifying, Jawor Keita a police officer attached to the Major Crime Unit told the court that a case of rape which originated from Barra Police Station was brought to their office with the accused, the victim and her two parents.
He said the case file was assigned to him and he escorted the victim to the RVTH where she was examined, and a medical certificate was issued to that effect, which was later tendered in court as an exhibit.
Officer Keita further informed the court that, the victim was brought along with her clothes, tainted with blood, which he added, was kept at the station by the exhibit keeper.
The case was adjourned to 8th September 2009.
Read Other Articles In Article (Archive)