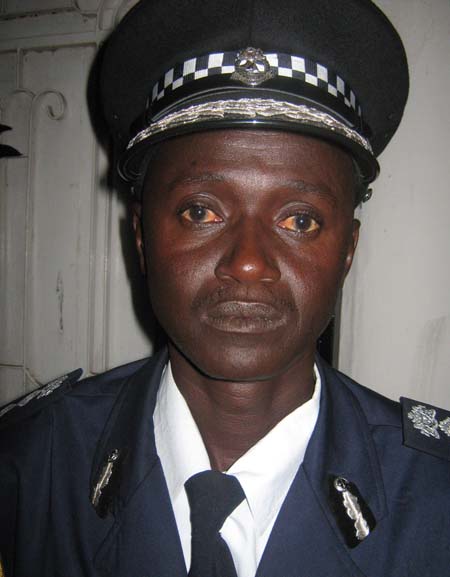 Muhammed Darboe the fourth prosecution witness (PW4) in the ongoing criminal trial involving ex police chief Ensa Badjie and CSP Ali Ceesay yesterday testified before Justice Ikpala of the Special Criminal Court.
Testifying PW4 (Muhammed Darboe), told the court that he lived at Serekunda London Corner, but is presently serving a sentence at Mile 2 prison. He said that recognised the 1st accused person, Ensa Badjie, who he also knows as "Jesus".
"I know one Soriba Condeh (PW1), whom I met in 2007 at a bar called Atoms, where we greeted one another," he added. He said Condeh asked him whether he is a Gambian, and replied in the affirmative, and that he too asked Condeh whether he is Gambian, and Condeh said he is a Guinean national. 
The witness further told the court that Condeh told him he needed five strong men because he was given a mission of operation that he should carry out.
Darboe said he was taken by Condeh to City Pub, and that he asked him (Condeh) who gave him the said operation.
PW4 added that, at the City Pub, they were taken to a small room behind the bar, and that the bar owner, Tony, also appeared at the place.
"I saw Tony switch on his mobile, and started to call, and I heard him saying over the phone "Jesus, your people have arrived," he testified. After thirty minutes, he added, Ensa Badjie arrived and shook hands with them, and they started their conversion with Condeh alias Ramsi (PW1), and PW1 told the 1st accused that "I am is his friend".
At that stage, PW4 added, he told Condeh that he knew the 1st accused at Serrekunda police station, where he had a problem.
According to the witness, Ensa Badjie told them that it was true that he gave a mission of operation to Condeh. PW4 said he asked Ensa Badjie about the tools they will be using in the operation, and Badjie said all the tools were prepared.
The 1st accused, he continued, told them that the operation they were to carry out was in respect of MoneyGram (money transfer service), and that the tools they should use include a crowbar and cutter. "On that day there was no operation; we only had drinks," PW4 told the court.
"It was the next day that we carried out the operation, around 2 am. I found PW1 with the rest of the gang members around Tipper Garage, and around 3:30 am we broke into the place, and we went for the watchman, who later ran way," PW4 said.
We broke in and went for the safe, and took it some 400 meters away to hide it, at around Serrekunda School, he added.
He further testified that Condeh told them he is calling Ensa Badjie to provide them with transport, so that they can take the safe.
"PW1 called the 1st accused, and I heard him saying we are ready, we are waiting for you, we were sitting on the safe in the darkness, when, in fact, PW1 was standing on roadside waiting for the 1st accused," he adduced.
He said they saw a vehicle coming, and PW1 thought that it was the 1st accused coming. Then, suddenly, they noticed that it was a paramilitary vehicle, and they all ran away.
The convict, who said he hails from Diabugu Bataba, told the court that after three months, Condeh came with police officers to his compound and, subsequently, he was arrested and taken to Serrakunda police station.
He said that Condeh and Amadou Jallow were taken out of the cell to another room outside the station, and that when they returned Condeh informed him that they were from the office of Ensa Badjie, the 1st accused.
Condeh, according to PW4, told them that Ensa Badjie warned not to mention his name, and that he will help them to get out of this problem.
"One day, PW1 was taken out of his cell and, upon his return, I saw him with a mobile phone. I asked him (Condeh) about the mobile, and he said it was his phone that was returned to him by the 1st accused."
"I heard PW1's phone ringing inside the cell. I did not hear what he was saying clearly, but I heard him say 'yes' repeatedly. I asked him who was calling, and he told me that it was the 1st accused."
PW4 further told the court that, one afternoon while in the police cell, Ensa Badjie brought Condeh some cannabis and alcohol.
After three days, he added, PW1 received a call from Ensa Badjie and, after the call, PW1 told them that the 1st accused said they will be taken to court, but he would help them by trying to engage the services of a lawyer.
He said PW1 further told them that Ensa Badjie told him (Condeh) that whenever they are taken to court, let them plead guilty.
He told the court that, consequently, all of them pleaded guilty, except one Muhammed Camara, who later died in custody.
Darboe further testified that they were all sentenced to different prison terms, ranging from seven to ten years.
He told the court that he knows Sergeant Jahateh, who was the second prosecutor in their case, further disclosing that they were all taken to Bundung magistrates' court. However, two of them were not charged before the said court, he said.
"We were taken from Mile 2 to Bundung court always being escorted by about 8 to 9 paramilitary officers," he disclosed.
One day, he went on, Sgt Jahateh spoke to the 1st accused on the phone, and the 1st accused told Sgt Jahateh to find out from them whether they have money in their possession.
"Jahateh then told Condeh to come away from the vehicle so that they can discuss," PW4 testified.
After the discussion, he went on, Condeh came and told them that it was Ensa Badjie who spoke to Sgt Jahateh, and said that they should provide the sum of D50,000.
PW4 said, in order for him to confirm, he spoke to Sgt Jahateh, and told him that "the money you mentioned, I could not afford that".
"I further asked Sgt Jahateh as to how he was going to help us, and Sgt Jahateh said that on any day they observed that only two police officers came to pick them from Mile 2, that was the day of their escape," he added.
"I told him (Jahateh) that the 'plan would not favour me because I am Gambian, and my parents are all living here'", PW4 further testified.
He said after three days, they were escorted to Bundung Magistrates' Court and, while in the vehicle, Sgt Jahateh told Condeh (PW1) that he had received D50,000. He said he did not see the money, but according to Sgt Jahateh he had received the money. PW4 went to say that on that day, the case was adjourned.
He told the court that, on the day of their escape, only the driver and one police officer came to pick them up. The driver and officer were sitting in front, and they were sitting in the back of the vehicle.
He also testify that PW1 told them, while inside the vehicle, that this was the day Sgt Jahateh told them to escape, and that when they reached Babung Fatty Junction, the vehicle slowed down. PW4 said he told his colleagues that the plan would not favour him, and that his colleagues opened the vehicle doors, and ran away.
He said that the escapees were Ebrima Suma, African and Soriba Condeh, who was arrested the following day.
Cross-examination  
Under cross-examination by defence counsel BS Touray, the witness said he is 29 years old, when asked how old he is. Asked whether he is Gambian, and in which part of the Gambia was he was born, PW4 responded that he hails from Diabugu Bataba, adding that he had lived at Bansang, MacCarthy and in the Kombos (Kanifing municipality).
He also admitted making a statement, on 7 July 2010, at the NIA, and that he is presently serving a seven-year sentence.
Asked whether he met any minister at Mile 2 prison, Darboe (PW4) said he did not meet any minister there.
It was put to him, by defence counsel BS Touray, that the Attorney General and Minister of Justice had visited them in the prison.  However, Darboe said he never heard of the minister's visit.
"I am putting it to you that you were promised a presidential pardon by the state", BS Touray said. Darboe replied, 'No'.
Hearing of the case continues today 14 July 2010 at 1 pm.
The ex Inspector General of Police, Ensa Badjie, and Chief Superintendent of Prisons Ali Ceesay were indicted on several counts including robbery with violence, official corruption, offences relating to judicial proceedings, deceiving witness, aiding and abetting, among others.
Read Other Articles In Article (Archive)