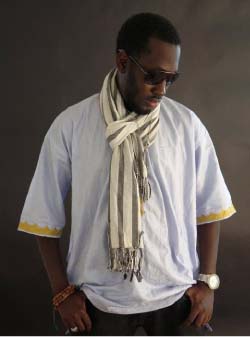 Mohawk, a rap artiste and member of the Fugitives rap group, has said the Fugitives is made up of himself, Breaze Tasman and DJ Graduate.
"We started the group since 1997 and we have toured many places around the world," Mohawk, CEO of Block Entertainment, said.
The Block Entertainment boss, who was speaking to PointEntertainment on Wednesday at his studio in Pipeline, said his group are the first Gambian artistes to be nominated at the kora award in South Africa and the first group to sing on international record dealing with Sony Music in France.
"We started going to Sweden since 2001 where we signed under-record label called Double Dog Record. Since then we were doing music in Sweden releasing singles," he said.
The Gambian rap artiste told PointEntertainment that rap music in Sweden "is very advanced compared to the Gambian standard".
He also said he has opened his studio to ease the problem of recording artistes are facing in the country, especially to help the young and upcoming artistes to have the best music recording, as well as to uplift the Gambian music to world recognition.
"Currently we have six artistes in the group and all of them have different ways they sing," he said, adding: "In October we will be releasing our compilation album with all the artistes in the block."
Touching on his rap fashion show recently at Jokor, Mohawk said the event was successful and it was the first time it took place in The Gambia.
"The purpose of the event was to bring artistes together and get them closer to their fans, as well as to promote their work and industry," he said.
Read Other Articles In Article (Archive)