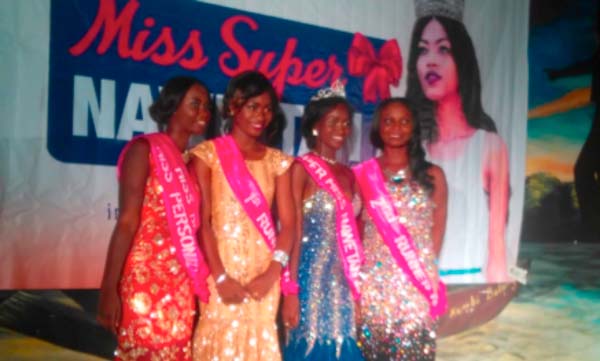 Miss Isatou Dem, an Arts student of SOS High School, was over the weekend crowned Miss Super Nawettan 2016.

She is the first beauty Queen to represent SK West and the first Gambian to win the maiden crown organised by the Sports Journalists' Association of the Gambia in partnership with Emids Promotion and the Super Nawettan organizing committee.
She topped a field of 7 beauty contestants to win the maiden crown and the title of Miss Super Nawettan 2016.
Dem wore and performed a cultural dance to a song ''Wongo'' sung by a Senegalese singer and guitarist Baaba Maal. Her platform is Sexual Abuse.
During the onstage interview portion of the competition, she was asked who the Gambia Football Federation president is and she answered it right that it's Mr Lamin Kaba Bajo, one of several sports questions asked of the contestants.
A "Tukulor" by tribe, Miss Dem advocates in the fight against sexual abuse and devised possible means of protecting victims suffering from the exploitation.
"People with developmental disabilities are often victims of sexual abuse and are at a greater risk for victimization of sexual assault or sexual abuse because of lack of understanding."
She defined sexual abuse as "any sexual assault committed with force or force in favour of an unequal relationship".
She said children and adolescents are affected primarily by the "unequal relationship" and she would endeavour to advocate for their ultimate protection.
Her secret dream is to be a lawyer; something she considers will lend a hand to solving specific individualised problems like sexual abuse.
Looking very emotional as she walked on stage to collect her award, she said: "I don't know what to say, I am speechless right now. I am so happy and so grateful to even be here."
The Miss Super Nawettan 2016 contestants, who competed for the Queen's crown, sizzled on the stage in their colourful traditional costumes and in sports gears that painted the event's name.
The first-ever Miss Super Nawettan finalists are: Miss Isatou Dem of Serekunda West (winner), Miss Amie Oulga Jagne of SK East won the first Runner-up in the contest, followed by Miss Haddy Ndow from Sukuta as Second Runner-up and Miss Fatou A. Faye of Barra Essau Mayamba (BEM), who won the Personality and Photogenic of the year honours.
The three other gorgeous contestants; Zainab Camara from Brufut, Haddy Jobe of Banjul and Satang Dumbuya, Bakau, were left empty handed.
Five other Queens anticipated from Manjai, Lamin, S.K. Central, Brikama and Gunjur could not make up the 12 intended contestants to fully represent the twelve Gambia Football Federation recognized zones.
The country's new Miss Super Nawettan 2016, Miss Isatou Dem 18, was crowned the winner on Thursday 27 October in an amazing night at Jakarlo (former Spy Baa) in Senegambia.
Read Other Articles In Article (Archive)