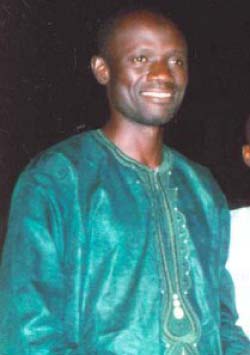 [endif]
Honourable Alieu K Jammeh, Youth and Sports Minister, has called on youth to continue believing in themselves.
Minister Jammeh was speaking to reporters recently at Arch 22 in Banjul, shortly after the end of the July 22nd Marathon sponsored by President Yahya Jammeh.
In addition to the call made by the President, it is necessary to work harder, change attitude, be responsible, respectful, patriotic, as young people and to continue believing in ourselves so that we can do it like the President is doing, the minister said.
One message to young people by the President is that his government is for young people, by the young people; and he has been calling on the young people to come onboard to join hands with him to develop this country, Jammeh added.
President Jammeh did not stop at just calling on young people, but went on to give them opportunities so that if you look around, with the Revolution, it has brought opportunities in education, health, agriculture among other sectors, he further stated.
"We have home-grown nurses and doctors in our health sector; in justice we have home-grown lawyers working and manning very key positions; in the business industry, we have the parastatals; cellular companies; in the banks you find young people at the front desks", he went on, and that "it all happened within the past 20 years."
The Youth and Sports minister described the July 22nd Marathon as "very symbolic in the sense that way back in 1994 the President came with a very clear vision for the country and very clearly stated programs as well to achieve that vision."
President Jammeh did not stop there, but set out on the journey to achieve the vision such that after 20 years all the success and results are there to see, the minister continued.
"His government and entire team gives a lot of satisfaction, they have not only put together a vision in a program but ran with it on the journey; if he is supported by genuine partners we can reach the promised land."
That is what the marathon has symbolised to me, he said, adding that "we can run with our vision, strong convictions, will power, to get to the destination we desire for ourselves."
All those who took part in the marathon have demonstrated that with a strong will, he continued.
The minister thanked the athletes in the marathon; and the President for the sponsorship and his approval to include the marathon and wrestling in the 20th anniversary celebration.
He also thanked the National Organising Committee of the marathon "for organising it very well, the school children, and the turnout; the general organisation has been great."
Finally, he thanked other sponsors such as institutions and individuals who supported the event.
Read Other Articles In Article (Archive)