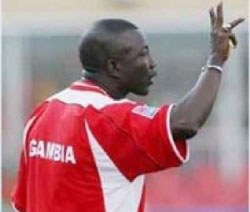 On Wednesday February 29th, an extraordinary day, given its leap year, you will be carrying to the frontlines that very beautiful flag that Pa Louis Thomasi designed.
Maybe not to the frontlines of Darfur, or peacekeeping in Kosovo, but right there in our own backyard where the sacred ponds of Katchikally will be looking on in quite a protective manner when the Algerian tourists come to town.
From the beautiful waterfronts of Palmaren to the shanty towns of Joal, all prayers are afoot for their favourite son, Bonu Johnson, to come out with a much needed victory.
While the game is one of equals and may go any direction any day, I can borrow a Latin phrase to speak of my friend at this most defining time in his very promising career:  'Candor dat viribus alas,' which translates to: "Sincerity gives wings to strength". That's the man I grew up with and the man I know and without one iota of doubt, I will say unequivocally without any reservation that The Scorpions under your watch will be ready, full of energy and patriotism to represent The Gambia with class, integrity, dignity,  and the familiar traits of yours. You are very deserving of this "General" role and make no mistake, the footballing fraternity is behind you and 'the troops', and we know that you will triumph in this role.
My friend, Peter Bonu Johnson, you inherited a job that was half done and in sum, a not too good deal, but your love  for Motherland Dearest and Patriotism prevailed and you stayed the course.
You have lived every word of our National Pledge and all fans, wherever they maybe, wish you the very best in this endeavour.
Even if the Dessert Foxes prevail - which I hope they don't - they will all agree, on their way out of Banjul International Airport, that they met a far more motivated and determined Gambian team with a renewed promise and will, to defend a proud people.  "Dimidium facti qui coepit habet"; after he who has carried the work half done; it's you my friend Peter Bonu Johnson who will restore our pride.
Good Luck!
RECTA SAPERE!
Read Other Articles In Article (Archive)