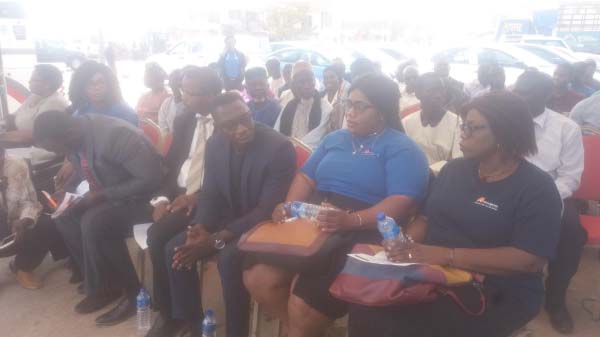 In response to the demands and service satisfaction to its customers, MegaBank, last Thursday inaugurated an outlet at Sinchu Alagie, Kombo North.

Alagie Salieu Ceesay, Alkalo of Sinchu Alagie said the community has witnessed drastic transformation since its establishment in 1967, during which no one would be bold to travel to Serrekunda alone due to the thickness of the forest.
"If we have to go up to 2019 with the establishment of gas stations and banks, that is a great achievement and MegaBank is the first bank in Sinchu Alagie even though there is a bank whose location is addressed as Sinchu Alagie but it is not found in the boundaries of Sinchu Alagie," he added.
Aisha Jawara, staff of MegaBank said the bank is one of the oldest banks in The Gambia, saying that they have full service commercial bank focusing their primary objective in delivering reliable and convenient banking services to their customers.
"Megabank is a highly capitalized bank with very strong funding base, a strong and dedicated workforce and operates under five branch-network across the greater Banjul area, including the newly inaugurated outlet," she stated.
She explained that over the years, the bank has made predominantly a name in the banking industry while assuring that the bank is 100% Gambian and therefore belongs to everyone.
The bank's Bakau branch Manager and head of the Sinchu Alagie outlet, Sally Sarr-Ceesay said the new outlet is geared towards easing banking for their customers and keeping with their promise to bring banking at the doorstep of every Gambian.
"Customers can enjoy 24hours banking with us by using cash and deposit services, receive Western Union, transfers, REA and Small World, at the newly inaugurated outlet or any of our branches," she said.
Mrs. Sarr-Ceesay said with the MegaBank mobile bank, their customers enjoy banking on their mobile phones, on computers and at a crush of a finger, they can be able to pay bills, transfer funds within and to other banks, buy cash power and view activities on their accounts using the mobile app.
"We offer services to our customers like the SMS alert, pension account and Gambians in the diaspora account to effectively manage their fund by giving instructions from their base in abroad. Parents and guidance can also open their account to save for their children's education up to university," she added.
Buba Sanyang, the bank's head of finance said in Gambia banking industry today, MegaBank is number four out of the twelve banks in the country, in terms of capitalization, saying that is a very commendable achievement.
"Banking is not just about the spread or where your location are but has more to do with service delivery and at MegaBank, we take service delivery very seriously which would be known to our customers when they visit the outlet," he said.
Read Other Articles In Article (Archive)