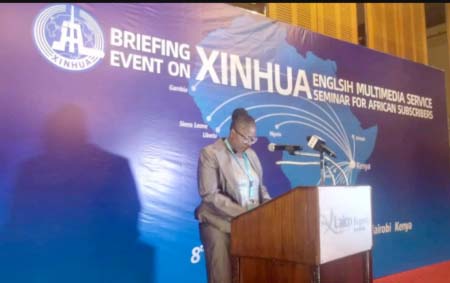 Current Gambia Press Union (GPU) treasurer and deputy editor-in-chief of the shutdown former pro-government newspaper; Daily Observer has addressed the Xinhua African English Subscribers Forum held in Nairobi, Kenya.

Addressing participants during a session on comment and suggestions of Xinhua's coverage of Africa, Mariatou Ngum said as the China-Africa relationship flourished, there has been a concerted effort from Beijing to build its media agencies in Africa to compete favorably with major Western media outlets such as BBC and CNN.
She said from huge infrastructural projects, to reasonable goods, the evidence of China's presence in Africa can be felt in every part of the continent. "Similarly, in the past few years, China's presence in Africa's media can be clearly seen through the radio, television or even on the newsstand."
Mrs Ngum said at a time that many Western media houses are cutting back on foreign reporting budgets, Beijing in 2009 allocated over 9 billion dollars to increase China's state owned media presence in the world.
She said Xinhua, a Chinese state news agency, emerged and has had a fairly long presence in the continental media for over five decades, saying Xinhua's major forms of intervention in Africa include setting up bureaus, developing news portfolio targeting African audiences, exchanging news with African media subscribers, and providing technical equipment and support as well as training African journalists.
"Xinhua focuses on a wide range of developmental issues in their reporting in Africa. They provide up to date coverage on a wide range of issues, stories from Xinhua are featured in national newspapers across Africa and they tell the exact stories, the issues, and challenges and most importantly they will give solution rather than getting people to argue," she said.
According to Mrs Ngum, Xinhua's coverage present hopes and exposed the potentials as well as possibilities of the countries of the continent to attain greatness. Unlike the Western outlet, which tend to focus on misdeeds and transgressions, Xinhua highlight good things happening in Africa.
Zhang Yanqiu, director of the Africa Communication Research Centre at the Communication University of China, argues that western media adopt a "watchdog" role while Chinese media practise what she calls "constructive journalism."
"Constructive journalism can be both positive and negative, but the purpose is to find solutions. The idea is to give a new kind of balance and shine a new kind of light on the continent. Instead of just reporting on the situation, it asks 'how can we help them?' The western media may be telling the truth, but if you are telling the truth and things are just getting worse and people are afraid of travelling to Africa, for whose good is this?"
he said the Chinese media model of reporting is increasingly being appreciated across the African continent. Afrobarometer, an African research network, as well reported in 2016 that about two-thirds of Africans see China's influence as 'somewhat' to 'very' positive. And more African countries now see China- not the U.S. – as the biggest foreign influence.
Suggestions
Tabling her suggestions, Mrs Ngum said as the world is witnessing China-Africa cooperation, Xinhua workers in China and Africa should objectively report on the cooperation and demands advantages and opportunities of both sides in order to implement the achievement made at the Johannesburg Summit of the Forum of China-Africa Cooperation held in late 2015 in South Africa as well as promoting the Belt and Road Initiative and development in Africa.
She said information overflowing is a reality and as a continent, Africa most not be trapped in fake news especially when it comes to narratives about China's engagement with Africa.
"Hence, the need for more training for both Chinese and African journalists as well Xinhua should expand to have more correspondents and Bureaus in all African countries in order to tell better stories."
She said Chinese media are more interested in telling the African stories from the African perspective rather than the hand-down script of the western media which see nothing good about the continent except stories of wars, crimes, diseases, among others.
"Reporting on Africa should tell African stories such as job creation. Therefore, both Chinese and African journalists present in this forum should use the opportunity the forum offered to foster bonds and to learn from one another, to discuss shortcomings they might have, and find solutions to problems, reflecting needs of the realities."
She also suggested that there be more exchanges between Chinese and African journalists and I hope more African media could go to China to see with their own eyes.
Read Other Articles In Article (Archive)