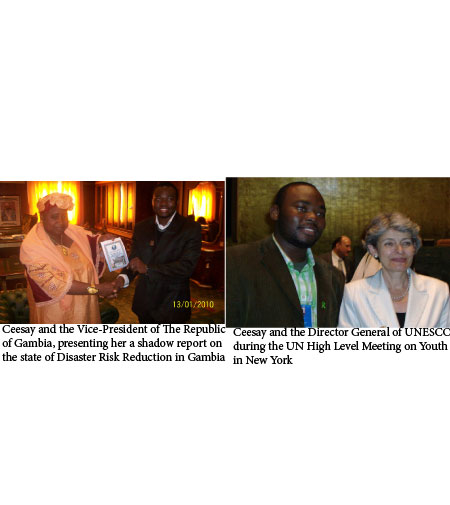 As promised last week, in our today's edition, we would like to share with you the reasons why we chose Aminata Hydara, Ibrahim Ceesay, Fabakary Kalleh, Abdul Jobe and Tumani Danjo as our first batch of inspirational youth leaders.
To begin with, we introduce to you Ibrahim Ceesay and why he could serve as an aspirator to other young Gambians.
Ibrahim is a social justice campaigner, UNESCO Youth and Peace Ambassador, climate activist and independent filmmaker. He holds leadership positions with several youth-led regional and international organizations.
Currently he serves as the Executive Coordinator of the African Youth Initiative on Climate Change (AYICC), the biggest youth climate movement in Africa (with 42 country chapters) and Chairperson of the African Youth Panel Advisory body to the Danish Africa Commission. Prior to his current position, he worked with the Gambia National Commission for UNESCO as Administrator/Secretary General of the National Federation for UNESCO Clubs and Centres. He is currently the Executive Director of the Children and Community Initiative for Development a public interest organization striving towards child and community development in the most sustainable way. He has facilitated and was involved in several youth led processes at the African Union, UN and other International Organizations, as a youth expert. He was recently nominated by Youth Hub Africa an online platform for youth engagement in Africa, as one of the 12 most influential youth leaders in Africa.
He was born on 15th January 1985.
From September 1990-May 1996 he enrolled at the World of Faith Primary School in Nigeria where he sat to common entrance examination.
In September 1997-May 2000 he enrolled at the IGBOBI COLLEGE YABA, Lagos Nigeria where he acquired his Lower College Education; West African Junior Secondary Schools Certificate.
Ceesay between September 2001 - September 2002 attended Saint Michael's College in pursuance of his high school education.
The young Ceesay also between September 2002- July 2003, enrolled at Archdeacon George Memorial Senior Secondary School where he sat to the West African Senior Secondary Schools Certificate Examination (WASSCE).
He posses his diploma in information technology between June 2004 and December 2004 at Hi-Tech 2000 Training Center.
The same Ibrahim Ceesay from November 2005-February 2006 attended UNESCO Media Training Centre where he acquired a certificate in media studies and advance reporting.
In his quest for higher education, he enrolled in January 2012-2015, to start a BSc in Development Studies at University of The Gambia.
Ibrahim also has an extensive work experience both locally and internationally.
For instance, from October 2004- April 2005 he served as entertainment manager at the African Village Hotel.
There his responsibilities include the management of the entertainment department, coordinating and facilitating all indoor games, coordinating the performances of cultural groups, musical bands and fashion shows, organizing and coordinating outdoors trips and adventures.
From April-Sep 2005, he worked as the Programme Manager for Hi-Tech 2000. There also he was responsible for the management of Hi-Tech 2000 administrative and educational programmes, coordination and implementation of projects and programs, controlling and management of finance and writing of project proposals for various programs.
The youth leader also from Sep 2005 to May 2008 served as Administrator/Youth Focal Person NATCOM-UNESCO Gambia i.e. National Federation of The Gambia UNESCO Clubs and Centres (NAFGUC) and ISESCO Clubs.
His responsibilities include the management of the filling system according to purpose, receiving mails and contacting the responsible executive members, receive, inform, discuss and direct visitors, be it UNESCO Clubs/Centres members or others, communicate to Divisional Coordinators for any impending activities and to prepare monthly reports to the executive.
As part of his work, he also writes proposals and plans for the attention of the executive board and serve as Youth Focal Person for NATCOM-UNESCO Gambia office.
As CAID director he also prepares and submits quarterly and annual reports to the board members and necessary authorities, receives, approves and draws a final annual programme of activities from various officers subject to the approval of the Board members among others.
He was one time programme manager of National Federation of The Gambia UNESCO Clubs and Centres (NAFGUC).
At NAFGUC his responsibilities include spearheading and Supervising NAFGUC's local and international conferences and training workshops for different UNESCO Clubs and Centres.
He also draws and compiles educational, scientific and cultural programs for NAFGUC.
He has written and implemented project proposals for the various projects and activities of NAFGUC's that supports the implementation of the National Plan of Action.
Ibrahim is also the regional programme officer KMC- Raid-The Gambia where his esponsibilities includes the coordination and implementation of Raid-The Gambia's programs in the Kanifing Municipality and also focal person and link between Raid-The Gambia and National Youth Parliament.
He is also an Artistic Director for Mandingmorry Theatre where his job entails the management of the theatre group, coordination and facilitating training workshops and theatre labs and directing and coordinating theatre performances.
This same young man is also the Youth Coordinator- NAYCO Child Network.
He is entirely responsible for the management of NAYCO Child Network, coordinating and facilitation of NAYCO Child Network activities such as meetings, radio and television programs, capacity building on child rights promotion and protection for children.
As Secretary General of National Federation of The Gambia UNESCO Clubs and Centres (NAFGUC), Ceesay informs all concerned members in writing of meetings and prepares the venue prior to the meetings, takes minutes of meetings and circulate to all the executive members.
He was also responsible for drafting, correspondence and keeping records of all in-coming and out-going letters, remind members of upcoming programmes/activities and register all the Clubs into the Federation after approval by the Executive Board.
He is an active member of different national, regional and international youth organizations and networks.
They include Child Protection Alliance (CPA) as a board member, secretary- African Youth Panel, secretary general- Musicians Union of The Gambia, Co-Coordinator: African Youth Initiative on Climate Change (AYICC), Treasurer- Youth Employment Network (YEN)- The Gambia, National Focal Person- International Campaign for the In-depth Reform of Systems International Institutions and Technical Adviser: South Asian International Network for Indigenous People.
He is also the Focal Person: Peace Tiles Project-International-The Gambia, country representative- African Regional Youth Initiative (ARYI), Focal Person- Stop-Child Poverty International, Project coordinator: International Network of Indigenous Youths and Children INIYAC, member- Global Youth Action Network, member International Association of Young Writers and Journalist, member UN International Indigenous Youth Caucus and National Coordinator- Global Network for Disaster Reduction (GNDR).
Please see below more of this great youth leader, activist and film director:
6. INTERNATIONAL CONFERENCES AND TRAINING ATTENDED
•           International Education Conference for Social Workers- Banjul, The Gambia-2004
•           UN Working Group on Indigenous Populations- Geneva, Switzerland-2006
•           UNITAR Training Programme on the Peace building Capacities of Indigenous Representatives- Cantigny, Switzerland-2006
•           West Africa Social Forum- Kaolack, Senegal-2007  
•           UNEP African Children's Conference on Environment, Yaoundé, Cameroon-2007
•           West Africa Regional Forum on Youth and Conflict Abuja, Nigeria-2008
•           African Youth Panel Addis Ababa, Ethiopia-2008
•           Regional Training on Disaster Risk Reduction VFL Project Accra, Ghana 2008
•           African Youth Panel Conference Copenhagen, Denmark 2009
•           Symposium on the United States of Africa Dakar, Senegal 2009
•           African Children Conference on The Environment Durban, South Africa 2009
•           International Children and Youth Conference on the Environment Dejoen, Korea 2009
•           United Nations Conference of Parties on Climate Change (COP15) Copenhagen, Denmark 2009
•           West African Conference on Climate Change Banjul, The Gambia 2010
•           Youth Entrepreneurship Summit Leksand, Sweden 2010
•           UN General Assembly Meeting and MDG Summit New York, USA 2010
•           UN African Development Forum Addis Ababa, Ethiopia 2010
•           Global Network on Disaster Risk Reduction Regional Training Dakar-Senegal 2010
•           GIMAC Pre African Union Summit on Gender Addis Ababa Ethiopia 2011
•           Danish African Collection Day Copenhagen, Denmark 2011
•           African Youth Forum African Union Pre-Summit Event Addis Ababa, Ethiopia 2011 
•           African Youth Panel Regional Meeting Accra-Ghana 2011
•           UN Conference on LDC's Istanbul-Turkey 2011
•           African Union Summit in Malabo- Equatorial Guinea 2011
•           UN High Level Meeting on Youth New York 2011
Other interest   
Reading, Research, Acting, Dancing, Singing, Traveling, interacting and socializing with young people, listening to music especially reggae and blues, playing soccer, taekwondo and rugby.       
International jobs experience and consultancy
1.         Lesotho National Commission for UNESCO and Ministry of Education- Establishment of UNESCO Clubs and Associations and a National Federation of UNESCO Clubs and Centres in the Kingdom of Lesotho in February 2009
 Employer: Lesotho National Commission for UNESCO and Ministry of Education
2.         AVAAZ EU Action Factories III on Climate Change- Global Climate Campaign in  Europe from Barcelona to Copenhagen COP15 from October to December 2009
   Employer: AVAAZ
3.         African Youth Initiative on Climate Change (AYICC)- Establishment of AYICC National Chapters in African Union States from January to December 2010
Employer: African Youth Initiative on Climate Change (AYICC)
  4.       Girls Literacy and Life Skills Project – Project Liaison Officer in Gambia working with selected schools to coordinate projects and implement activities October 2010 to May 2011
Employer: Women Empowering Nations (WEN) USA
 5.African Youth Forum-Pre AU Summit  from 1 to 10 April 2011- Invited by the AU Youth Division to serve as Youth Rappatuer and Facilitator for the African Youth Forum
Employer: African Union Youth Division
6.         7TH UNESCO Youth Forum 17 to 22 October 2011- Invited by UNESCO to serve as Youth Facilitator from Africa to help coordinate activities of African youth delegates to the youth forum and enhance their participation.
 Employer: UNESCO Paris
Read Other Articles In Article (Archive)