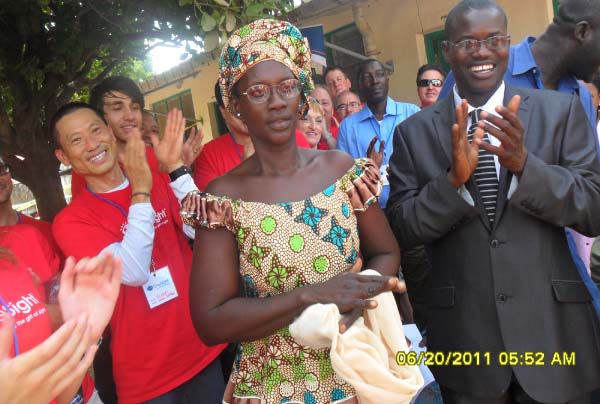 The National Eye Care Programme of The Gambia, SightSavers and OneSight Luxottica Group Foundation from USA have embarked on offering free eye examination to Gambians.
The optical outreach clinic is being offered to patients at the Gunjur Health Centre and the AFPRC Hospital in Farafenni.
Speaking at the ceremony shortly before the start of the clinic, OneSight programme manager for global operations David Berumen said the services are offered free of charge.
There are eight million patients worldwide benefiting from their free eye care services, of whom the 8th million patient named Maroki Camara was registered in Gunjur.
It is a very good achievement for OneSight to register their 8th million eye patient in The Gambia, Mr Berumen said, adding: "This is the first time our organisation is conducting eye clinic examination in The Gambia, which is a process."
The eye clinic examination is a partnership between his organisation and The Gambia SightSavers, who identified the two places to conduct the exercise, he explained.
"We are expected to examine a total of 1,500 eye patients including young and old people; at Gunjur Health Centre we are to examine 1,270 patients and at the AFPRC Hospital in Farafenni 230 patients," the OneSight programme manager said.
He added that six of his officials are currently based at the AFPRC Hospital while the remaining 26 are stationed at the Gunjur Health Centre for the exercise.
They would start to perform eye operation later this year, Mr Berumen said, adding that three of their OneSight officials are making eye glasses for the patients, at the Sheikh Zayid Regional Eye Care Centre in Serekunda.
For his part, the project officer at SightSavers-The Gambia country office, Momodou Njie, thanked the people of Gunjur and its environs for their large turnout to the eye examination.
He also applauded the partnership between his office and SightSavers International.
"Eye problem is one of the leading causes of blindness," Mr Njie said. "This is just the beginning of the eye examination; it will be a yearly outreach event in the country, which has been designed to complement the main work of SightSavers The Gambia."
"The partnership for the eye examination programme between OneSight and SightSavers-The Gambia country office will run for three years and it will cover the entire Gambia and I am sure whoever is seen by OneSight will go home happily."
Read Other Articles In Article (Archive)