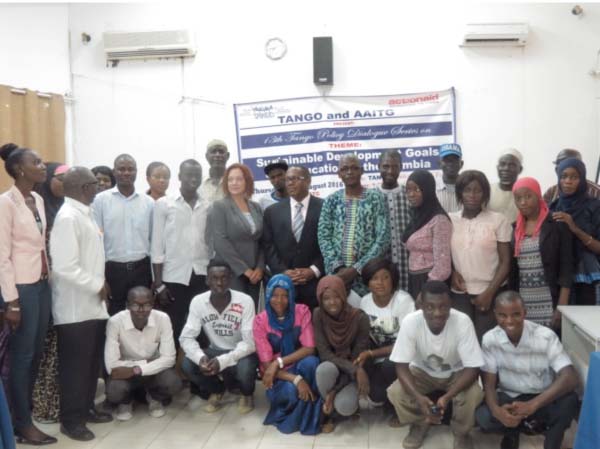 Media Agenda yesterday wrapped up a two-day training workshop for 30 journalists on developing messages on voter education.

The training, held at TANGO conference hall, was part of the US Embassy funded project which aims at reducing voter apathy among electorates.
Speaking on the occasion, U.S Embassy Charge d'Aff'aires Marc Shaw said the training was "very much consistent" with the embassy's commitment to the promotion of democratic values.
"It is our strong conviction that an informed electorate will make informed decisions at the polls," he said. "Experiences from other sub-Saharan African countries show that pervasive voter apathy was largely due to lack of necessary voter education."
The US diplomat said too often, people lose interest in the democratic process because they feel their vote does not count, or because governments neglect civic education programmes.
"We don't want to see voter apathy take hold in The Gambia, and what better medium to create an enthusiastic and informed electorate than the media," Mr Shaw said.
The US Embassy Charge d'Affaires said journalists and other members of the media should be able to freely investigate, research, publish, and share news, information, and opinions on electoral manners without fear of reprisals.
He said governments are responsible for protecting journalists from physical harm and intimidation at all times, but more so during elections.
He cited President Obama as saying democracy is not just formal elections when journalists are put behind bars for doing their jobs, or activists are threatened as governments crack down on civil society; then you may have democracy in name, but not in substance.
Madi M.K. Ceesay, director of Media Agenda, said voter education messages can motivate citizens to participate in elections.
He said through voter education, individual will learn that their participation in elections establishes representative government and ensures accountability by those who are elected.
Mr Ceesay said in the voter education process, it is not enough to merely concentrate on roles and responsibilities, but educators must also consider the rights to a free and fair election.
"Voters need to be made aware that each individual vote has weight in determining the rights that they have over the elected party or representative once the election has been won or lost," he said.
"If a representative relationship cannot be formed between citizens and elected officials, citizens may begin to feel that their vote does not, in fact, count for much."
Read Other Articles In Article (Archive)