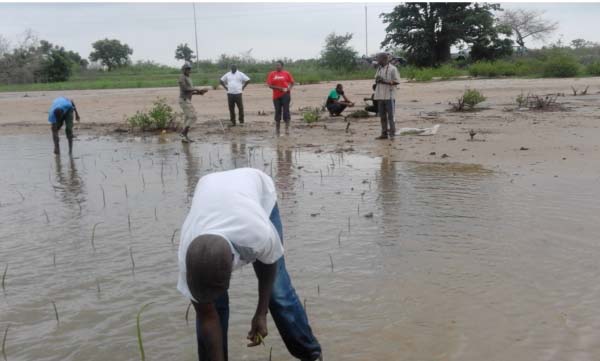 The Department of Parks and Wildlife Management with support from Agriculture CHOSSO project at the weekend conducted mangrove regeneration exercise at Cape Point Creek in Bakau.

In an interview with The Point, Abdoulie Sawo of the Department of Parks, said Tanbi Wetland plays a vital role in ecosystem function such as providing breeding and nursery site for aquatic species and provide an adequate space for flood control.
The wetland also reduces the speed of violent storms and provide haven for migratory birds.
Mr Sawo said Tanbi Wetland is recognised as a site of regional and international importance by Western African Eco Region's Conservation. The site harbours globally significant species including a nursery of more than 70 fish species, more than 100 species of birds, manatees, nile crocodile and is a pathway for dolphins.
However, experts said the site is under intense human pressure such as land reclamation, mangrove cutting, and fishing.
Due to the significance of mangrove, World Mangrove Day is celebrated every year on 26 July.
This year, The Gambia will hold a belated celebration of the day on 30 September.
Read Other Articles In Article (Archive)