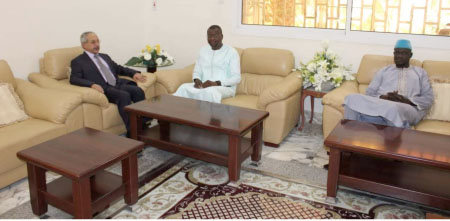 Ebrima Mballow, the former minister of Interior now The Gambia Consular in Jeddah recently paid a courtesy-call on the Yemen Consular General in Jeddah, who is the dean of the consular corps.

Mballow and the Yemen Consular General discussed about The Gambia's hosting the Organisation of Islamic Cooperation (OIC) summit to be held in The Gambia in 2022. The two diplomats also discussed issues that are for the betterment of both countries. The Gambia Consular General craves Almighty Allah's blessings for lasting peace and stability in Yemen and also the problem affecting the Muslim Uma in the world.
In a separate development, Ebrima Mballow also paid a courtesy-call on the Senegalese Consular General in Jeddah.
He told The Point that they both reiterated their commitment to strengthen the mutual relationship that exists between the two countries. He added that President Barrow and President Sall are committed to the spirit of friendliness and good neighbourliness, adding they're also working towards that direction.
Mballow said he and his Senegalese counterpart would continue to consult one another and engage in dialogue over issues that are of betterment for the two countries, saying "Gambia and Senegal are one but just been divided by colonial masters."
Read Other Articles In Article (Archive)