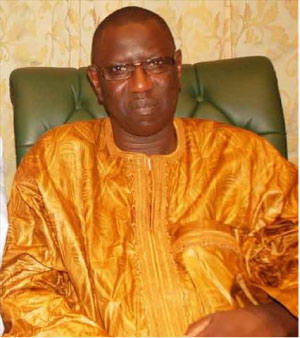 The Mayor of Banjul City Council, Samba Faal, has shed more light on the ongoing road reconstruction in Banjul, noting that Banjul as the capital city of The Gambia needs better and quality roads.
Mayor Faal, who was speaking in an interview with our reporter on Tuesday, said in as much as they want to reconstruct the roads in Banjul using asphalt, this is not the solution because, according to him, during a recent tour with NAWEC and NRA officials, they discovered that what was reconstructed before the rainy season has been destroyed by the rains.
"Now, we have decided to use concrete to build all the major roads in the city which is very expensive, but is more sustainable; you will spend more but then it will last longer, which is better than spending less and it doesn't last long," Faal stated.
According to him, officials of the NRA and NAWEC have identified major roads in Banjul to start with and, in the coming years, other roads will also follow.
He stated that Banjul City Council in collaboration with the NRA and NAWEC will call for a stakeholders meeting to discuss the best way forward.
Mayor Faal also noted that during the stakeholders meeting, they will agree on one thing, that is, that all trucks coming to Banjul will only come to the city, offload and go back to Abuko for parking instead of parking in the city.
Noting that the BCC have three major priority areas namely, the environment, infrastructural development and empowerment of youth and women, Mayor Faal urged people to be appreciative of their efforts towards the roads in Banjul.
Banjul, he said, is a city for all Gambians, the administrative centre, economic capital and is the seat of government.
"In Banjul, we have major institutions, so Banjul belongs to every Gambian and we happen to be the custodians, and it is in our interest to make sure that we complement the efforts of central government to really put Banjul into its proper perspective," he said.
As a municipality, he added, the BCC does not have the resources to do it alone.
"So it is a kind of partnership with the central government, which is doing everything within its means to really make sure that Banjul becomes the envy of other capital cities around the world," he stated.
"We have seen the political will of President Jammeh and he is doing it, but at the same time, there are shortcomings, which are to be addressed and government is doing everything possible to address them; one of them is the condition of the roads," he stated.
Banjul, he added, is now becoming more of a commercial center with trucks everywhere, noting that these trucks take their toll on the roads.   
Read Other Articles In Article (Archive)