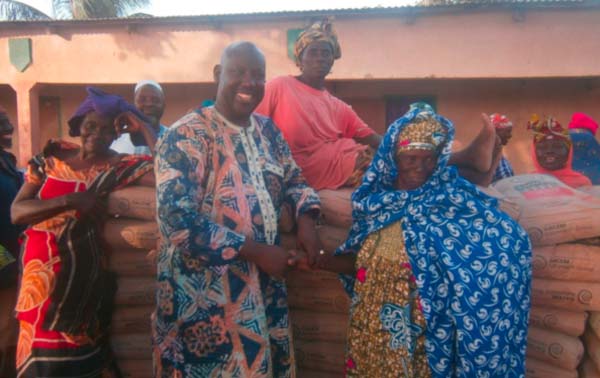 Mr Mohammed S. Jabbi, principal of Brufut Upper Basic School, who doubles as the Secretary General of the Sukuta Medina Development Association, on Monday donated one hundred bags of cement to Sukuta Sabiji Women Horticultural Gardeners at a colourful ceremony held at the garden.
The donation was done to support the women to kick-start fencing their garden to avoid animals intruding into it and destroying their vegetables.
The donation was also made by Master Jabbi through the Sukuta Medina Development Association to contribute their quota to national development, as investing in women is geared towards  nation building.
The presentation of the cement, which was highly emotional, was characterised by singing, dancing, and cultural display.
The women gardeners also, in their entertainment, praised Master Jabbi for his good work, describing him as an orientated-development workers and a patriotic Gambian worthy of emulation.
Speaking at the presentation, Mr Jabbi said the empowerment of women does not only stop by word but should be practical.
"In fact the Sukuta Medina Development Association is focusing on three thematic areas: women empowerment, education, and youth development," he said.
The association thought it fit to support, he said, adding: "Looking at the population in Kombo North there is need for a market. However one of their major problems is lack of water, as well as animal intruding into their garden."
According to Mr Jabbi, Sukuta Medina Development Association deemed it necessary to contribute their quota into the empowerment of women through providing them with some small support since it is part of their programme and plans to build their capacity.
He said the association would also provide two trips of gravel and sand and additional three bags of rice to support them during the fencing of the garden.
According to Mr Jabbi, the importance and benefit of the garden to the Sukuta Sabiji Women cannot be over-emphasized as it is through it that they the women are able to meet their medical bills, feeding and school fees of their children.
"I feel delighted to support women and children who are the most vulnerable," he said, adding that his association would continue to support and promote the advancement of women.
He also commended President Yahya Jammeh for taking the lead in the promotion of women advancement in the country.
For his part, Alieu Keita, the president of Sukuta Medina Development Association, also used the opportunity to advise the Sukuta Women Horticultural Garden to rally behind the Gambian leader, who has brought a lot of development to the doorsteps of the Gambian people.
In receiving the donation, the female president of the Sukuta Women Horticultural Gardeners, thanked Master Jabbi for supporting them, especially in security and water as these are two major problems they are grappling with. 
She then praised Master Jabbi for being a patriot worthy of emulation.
Read Other Articles In Article (Archive)