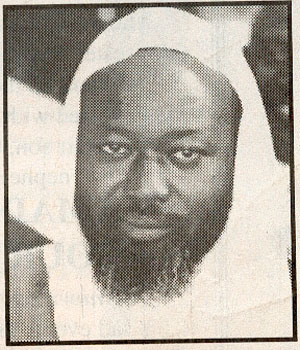 The Imam of the State House Mosque Alhagie Abdoulie Fatty has urged Muslim men to marry more wives to help what he referred to as unmarried women get out of "difficulties".
Imam Fatty, who was speaking during his weekly preaching on GRTS, also appealed to Muslim women folk to encourage their husbands marry more wives to save unmarried women.
"If every woman is married to a man, we will live in a decent society," Imam Fatty said, while urging the women to call for a conference and talk about the problem.
According to the State House Imam, it is sad to see grown-up women moving around town without a husband, something, he said, is regrettable.
This, he added, is all due to some traditional beliefs.
"Some Muslims are only looking at this world today, and forgetting about God and the hereafter, and this is very sympathetic," Fatty said.
"Women should have sympathy for themselves; parents should have sympathy for their own daughters and the Muslim Ummah in general must have sympathy for one another, so that we as Muslims in The Gambia will not experience what is going on in other parts of the world," he stated.
"Before, if a woman's husband passes away, it was very easy to get another husband, but now it's the opposite. Women whose husbands passed away and are sitting down is on the increase day by day, month by month and year by year," the State House Imam further stated.
In Imam Fatty's own observation, if one enters into some compounds today, you only find unmarried women or women with their children, without the husband.
Noting that he is not telling a story, but preaching current happenings, Imam Fatty said some married women are in the habit of threatening their husbands if they (husbands) want to marry second wives, or would even go to marabouts.
"Do those married women not have the belief that one day, they would stand before the Almighty Allah for judgment of their deeds?" he asked.
He called on the married women to help their husbands in reducing from other unmarried women the difficulty they are going through. 
Read Other Articles In Article (Archive)