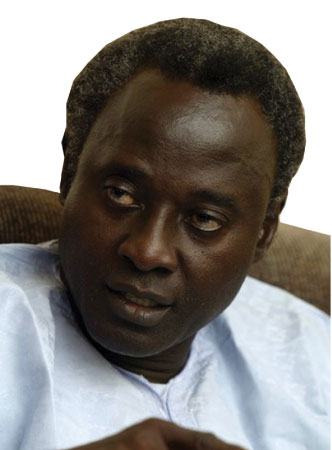 The Secretary General of the opposition Peoples Democratic Organisation for Independence and Socialism, PDOIS, has described the death of Nelson Mandela, first black President of South Africa, as the beginning of a new era, the era for the realisation and consolidation of Republican values, democratic instruments, democratic institutions and democratic culture in each African country.
In a statement issued Wednesday, Halifa Sallah who talked on a wide range of issues covering the Senegambia conflict zone, national issues like taxation, the youths, among others, said the late Mandela had lived a life that could be taken as an example of best practice in modern day leadership.
The statement followed Halifa Sallah's return from Dakar, Senegal, where he was invited as a researcher to an expert meeting on the Senegambia Conflict Zone organized by ECOWAS.
''Having suffered incarceration for 27 years he could have remained in power for life, but  chose to hand over power when he had all the popular support to rely on to  retain it. I am talking about Nelson Madela,'' he stated.
Mandela, he added, had the opportunity to live a luxurious life while the people remained in chains, but preferred to face death and imprisonment so that the chains of indignity, oppression, humiliation and degradation would be broken for good.
''After liberty was attained, he went further than any leader of the struggle for self-determination and independence to pioneer the second phase of national liberation which has the strategic objective of affirming the sovereignty of the people,'' Halifa stated.
Nelson Mandela struggled to build a nation where every citizen is sovereign and where no one is discriminated on the basis of colour, gender, ethno-linguistic origin or creed. He has built a nation, which despite its imperfections, would never ever allow a leader to emerge again who will rule like a demi-god above the people.
According to him, Mandela is resting in peace but would do so more comfortably if we build the type of country he envisaged to build in his honour, a society where the people know no fear, no poverty, no indignity, no oppression, no humiliation, no marginalisation, no impunity; a society that guarantees them liberty dignity and prosperity.
''We find consolation in the fact that just a day before he went to rest in the world of the martyrs, experts from the ECOWAS states came up with the profound observations and recommendations that would have made Nelson Mandela proud that his legacy would live forever and would shape the direction of the continent in the twenty-first century,'' he stated.
Read Other Articles In Article (Archive)