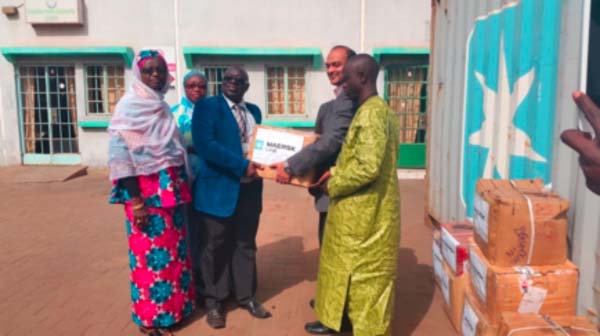 As part of their social cooperate responsibility to contribute to the health sectors in The Gambia, Maerskline Gambia limited, recently donated antiseptic material to Gambia Ports Authority's Clinic, at a ceremony held at the GPA clinic.
In his handing over statement, the managing directorof Maerskline, Prashant G poduval, said his company was extremely pleased to be part of the development of the Gambia society in general and Gambia Ports Authority in particular who they work with everyday in close co- operation.
"This year has been very challenging with increased volumes flowing in and out of the country and together we did our best to demonstrate our commitment to the trade in the Gambia by keeping our services flowing despite the bottlenecks faced," he said.
Maersk Gambia Limited is operational in the Gambia since 1993 and represents two of the world's leading liner brands, maerskline and safmarine, he said.
He said together with the two brands, they connect the Gambia to the world and the world to the Gambia.
"We represent the only shipping line calling the port of Banjul weekly and we represent a significant chunk of the port of the Gambia's volume and revenue turnover," he noted.
He noted that without the active presence of maerskline and Safmarine, prices of essential commodities would spiral and much needed medical aid would never reach the deserving populace.
Mr Poduval added that maerskline continue to explore opportunities in co-operatingwith the Gambia Port Authority in facilitating trade, thanks to the government of the Gambia especially the President for creating the enabling environment for them to operate.
Modou Mbowe, director of Harbor, said Maerskline Gambia Limited has been working with the Gambia Ports Authority for nearly a decade now.
He said the donation was timely and it would minimize the purchased and the cost for the Gambia Ports Authority to buy drugs for the clinic.
Read Other Articles In Article (Archive)