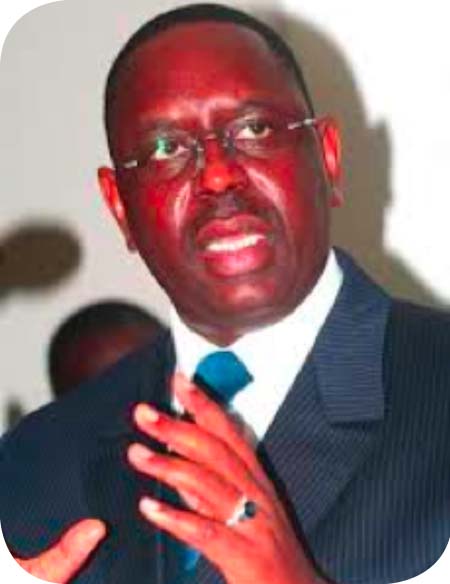 Senegalese President Macky Sall has re-iterated that Senegal has no intentions to destabilize the government of his Gambian counterpart Yahya Jammeh, and that he always harbours good intentions toward The Gambia.
Responding to a question on his reactions to comments attributed to President Jammeh that the two of them had some problems, President Sall said during a press conference held on Thursday in the town of Kaffrine at the conclusion of a four-day 'economic tour' he undertook in Sine Saloum, that there are no problems between him and President Jammeh or between Senegal and The Gambia.
"We have other things to do than interfere in problems in The Gambia. Senegal and The Gambia are neignhours and our two peoples are inseparable. Therefore, we all need to do everything possible to maintain good neighbourliness and the special relations existing between the two countries," he said.
President Sall went on to remind everyone that The Gambia was the first country he visited shortly after he took office and, as such, he regards The Gambia as Senegal's good neighbour.
He said President Jammeh knows that he (Sall) is a democrat, and he is concerned about the development of Senegal rather than engage in destablizing another country.
He said while President Jammeh has said that Senegal is harbouring his enemies, he has reassured him (Jammeh) that the Senegalese government will never allow anyone to destabilize The Gambia from Senegal. 
He gave the example of Sheikh Sidia Bayo who was recently expelled from Senegal, after he was accused of complicity in the recent coup attempt against the government of The Gambia.
However, President Sall said that as Gambians are also citizens of ECOWAS, as long as those residing in Senegal comport themselves and respect Senegalese law, his government has no cause to expel them from the country.
"We will, however, not hesitate to deal with anyone who wants to use Senegalese territory to try and destabilize The Gambia," he added.
Meanwhile, commenting on the situation in Casamance, President Sall appealed to the Senegalese media to exercise more caution in their reporting of events there, which he said has the tendency to fuel the conflict.
He was responding to a question on whether recent reports of clashes between the Senegalese army and rebels of the MFDC meant resurgence of hostilities.
He denied that there was a resurgence of fighting in the area, and said whatever happened could have been a routine phenomenon.
"The army is around day and night throughout the territory. Sometimes there is a confrontation, it can happen, but the territory is under control. My commitment to getting peace in Casamance is strong and the press should help us," he appealed to the journalists.
However, he dispelled any speculation that the government would ever pay any money to anyone in order to negotiate for peace in Casamance.
"There will never be another "Monsieur Casamance," Sall said.
Read Other Articles In Article (Archive)