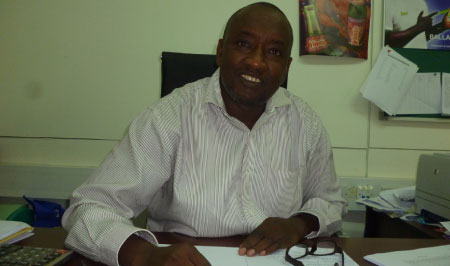 Bori Darboe, a member of the Lower River Region Organization Committee, who also doubles as the marketing manager of Banjul Breweries, has called on the Normalization Committee of the Gambia Football Association (GFA) to step down because "they are not capable of taking Gambian football anywhere.
Mr Darboe made these remarks in an interview with reporters in his office in Kanifing yesterday.  
Darboe said that since the Normalization Committee took over in March 2012, they could not take the Gambian football anywhere, adding that the normalization committee is to normalize Gambian football but instead are "spoiling the game" since they came into office in March.
The Gambia have failed in the continental senior and cadet competitions under the Normalization Committee's era, Darboe noted.
He therefore seized the opportunity to call on them to step down and also calls for an Annual General Meeting to elect a new executive that will run the affairs of Gambian football.
During the time of Seedy Kinteh, Darboe noted, The  Gambia was doing "extremely well" in the continent cadet competitions and won the championship in 2005 and 2009 and the U-17 also beat Brazil 3-1 in the 2005 FIFA U-17 World Cup hosted in Peru.
The Normalization Committee has also sidelined regions, Darboe also said, pointing out that during the time of Seedy Kinteh, regions used to play FA Cup and regional league and last season the Normalization Committee decided not to involve regional teams in the FA Cup competition.
Darboe also blamed the Ministry of Youth and Sports for letting go the former GFA executive and bringing in people who "cannot take Gambian football anywhere" because they were there before and could not promote Gambia sport to any level.
"Seedy Kinteh's executive has contributed immensely towards the development of Gambian football; that was why FIFA recognised him for his tireless contribution to Gambian football," Darboe pointed out.
Read Other Articles In Article (Archive)