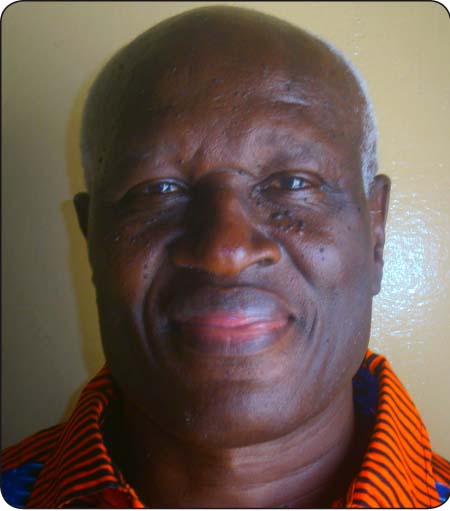 "I will turn their mourning into gladness; I will give them comfort and joy instead of sorrow." (Jeremiah 31:13b)
Looking to Jesus becomes a way of life when he takes charge of our lives, when he is at the head of our operations, our plans and projects. When he conducts and guides our steps in every action and every thought and as we ask ourselves, 'What would Jesus have done' under the circumstances? When Jesus becomes our role-model, half the work is done and the battle is won.
Looking to Jesus does not mean the absence of 'trying times' or that we will not face mountains? There will be times when the chips will register an all-time low and there will be no solution in sight; that is the time to hand it all over to Jesus. Actually, he is nearby. "Call to me and I will answer you and tell you great and unsearchable things you do not know." (Jeremiah 33:3)
When there are mouths to feed
You are the only breadwinner of a large family and you are going through strain to provide for them, look to Jesus. Our Lord Jesus teaches us not "...to worry about your life, what you eat or drink; or about your body what you will wear. Is not life more important than clothes? Look at the birds of the air, they do not sow or reap or store away in barns, and yet your heavenly Father feeds them. Are you not much more valuable than they?... your heavenly Father knows that you need them." (Matthew 6:25-27, 32) Looking to God, and trusting in his power to provide for us lies our insurance for a life free of worry. Paul exhorts that his God (our God) "...will supply all our needs according to his riches in glory in Christ Jesus." (Philippians 4:19) Jesus continued by giving the formula to put an end to our worries. "But seek you first his kingdom and his righteousness, and all these things will be given to you as well." (Matthew 6:33)Worried about making ends meet? Read this: "And God is able to make all grace abound to you, so that in all things at all times, having all that you need, you will abound in every good work." (2 Corinthians 9:8)
Sleepless nights?
Worries for a secure future in a competitive world where connections determine where and how you will live and whether you will make it, puts one on edge, on the edge of despair. Some resort to suicide or end in madness but you will look to Jesus. "It is not by power nor by might but by my spirit, says the Lord Almighty." (Zechariah 4:6) Because you know in whom you trust, you will attain higher ground. The Psalmist put his trust in the Lord because that was the source of his help. "My help comes from the Lord, the Maker of heaven and earth." (Psalm 121:2)
When problems knock at your door, do not rush to open the door. Ask Jesus to attend to it on your behalf. You know why he would? He made it clear once; "... the Son of Man did not come to be served, but to serve, and to give his life as a ransom for many." (Matthew 20:28)
Problems have a stubborn instinct; they do not go away that easily, that is why our Lord Jesus says we must speak to them. "I tell you the truth, if you have faith as small as a mustard seed, you can say to this mountain, 'Move from here to there' and it will move. Nothing will be impossible for you." (Matthew 17:20-21) Your attitude will determine the outcome."They will come to you in one direction, but flee from you in seven." (Deuteronomy 28:7b)
Fearful?
"For God did not give us a spirit of timidity, but a spirit of power, of love and of self-discipline." (2 Timothy 1:7) Jesus and his disciples were crossing the lake when all of a sudden a storm began to rage. Seasoned fisherman among them panicked. Jesus was in the boat but was asleep when one of them woke him up. "Master, master, we are going to drown." they lamented. To their amazement our Lord Jesus "got up and rebuked the wind and the raging water; the storm subsided, and all was calm." (Luke 8:24) They looked to Jesus and got the desired results.
When you cannot see a ray of light down the tunnel, keep walking for David assures us that "Though I walk through the valley of the shadow of death, I will fear no evil because you are with me; your rod and your staff they comfort me." (Psalm 23:4)
In old age with your aches and pain
Increasingly, our offspring are leaving their parents in their old age to fend for themselves because of the trying financial environment, ushering in isolation, lack, ill-health and abandon. When that happens, do not give up, just call on Jesus; look to him for succour before desperation sets in. Remember God commanded ravens to feed the prophet Elijah; can he not do that for you too?"Those who hope in the Lord will renew their strength. They will soar on wings like eagles; they will run and not grow weary, they will walk and not faint." (Isaiah 40:31)
King Herod had plans to eliminate Christian leaders in a bid to stall the movement. He had just killed James, the brother of John, and now wanted to get rid of Peter. He had put him in prison with a view to trying and condemning him. But that night the Christians held an all-night vigil and prayed God for his release. By morning the next day his story had changed. Angels had organised his release in spite of the tight security. When the church looks to our Lord Jesus its founder, it will perform great marvels. 
Read Other Articles In Article (Archive)