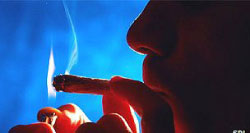 Drivers who use cannabis up to three hours before driving are twice as likely to cause a collision as those not under the influence of drugs or alcohol, says a Canadian study.
This is because cannabis impairs brain and motor functions needed for safe driving, the researchers suggest.
The study in bmj.com reviewed nine studies of 50,000 people worldwide who had been in serious or fatal crashes.
Experts support the close monitoring of serious accidents involving drugs.
The study analysis was carried out by researchers at Dalhousie University in Halifax, Canada.
They looked at observational studies of collisions between one or more moving vehicles on a public road which involved the consumption of cannabis.
Drivers of cars, sports utility vehicles, vans, lorries, buses and motorcycles featured in the studies.
The study found a near doubling of risk of a driver being involved in a motor vehicle collision resulting in serious injury or death if cannabis had been consumed less than three hours before.
A system needs to be put in place to monitor the number of serious and fatal accidents where impairment from illegal drugs was a contributory factor."
Duncan Vernon Royal Society for the Prevention of Accidents
However, it added that the impact of acute cannabis consumption on the risk of minor crashes was still unclear.
Blood sample
Mark Asbridge, study author and associate professor at the department of community health and epidemiology at Dalhousie University, said the research was important.
"Our findings provide clarity to the large body of research on cannabis and collision risk.
"They also offer support to existing policies, in many jurisdictions, that restrict driving under the influence of cannabis, and direct public health officials to devote greater attention to this issue."
All studies tested for tetrahydrocannabinol, or THC, the active chemical in cannabis, by analysing blood samples or using direct reports of cannabis use from those involved.
Most studies used one nanogram per millilitre of cannabis or any amount greater than zero as the cut-off for a positive test result, with one study using a 2ng/ml cut-off.
Duncan Vernon, a road safety manager at the Royal Society for the Prevention of Accidents (RoSPA), said that previous studies in controlled lab conditions had shown that cannabis can impair a driver's ability to respond to potential dangers.
"This new research strengthens the evidence that driving under the influence of cannabis increases the likelihood of being seriously injured or killed in a collision.
"This adds to the argument that a system needs to be put in place to monitor the number of serious and fatal accidents where impairment from illegal drugs was a contributory factor, so that appropriate action can be taken to prevent them."
Positive test
Julie Townsend, deputy chief executive of road safety charity Brake, said that tackling drug driving should be a top priority.
"This report highlights the danger posed by drivers who have smoked cannabis and adds weight to Brake's calls for widespread testing and prosecution of drivers."
In the UK, 18% of people killed in road crashes have traces of illegal drugs in their blood, with cannabis the most common, Brake says.
The Canadian study cites a roadside survey of 537 drivers in Scotland in 2000 which found that 15% of respondents aged 17-39 years admitted to having consumed cannabis within 12 hours of driving a vehicle.
The European Monitoring Centre for Drugs and Drug Addiction found, in 2008, that between 0.3% and 7.4% of drivers tested positive for cannabis from roadside surveys in the United Kingdom, Denmark, the Netherlands, Norway, the United States, and Australia.
The researchers conclude that despite the increased risk posed by cannabis to car drivers, alcohol remains the substance most often present in crashes.
The observed association between alcohol and crash risk is more significant than that for cannabis, the study says.
Read Other Articles In Article (Archive)