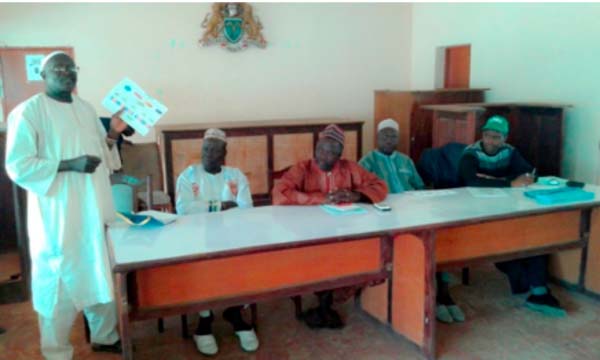 The executive committee of National Livestock Dealers Association Tuesday paid a courtesy call to the North Bank Regional Governor Lamin Queen Jammeh to brief him on the association's plan of activities.
Ebrima Jallow, national president of the association, applauded NBR regional authorities for their support and commitment to animal welfare.
He said the livestock dealers association was formed to complement the development strides in the livestock sub-sector by the Gambian leader, President Yahya Jammeh.
Mr Jallow appealed to regional authorities, institutions and NGOs to support cattle farmers with cattle tracks and water drinking points.
He told the governor that the association is committed to curb cattle rustling while calling on herders and shepherds to be steadfast in reporting such cases to security outfits.
Governor Lamin Queen Jammeh, for his part, thanked livestock dealers association for the laudable initiative, assuring them of his office support to animal welfare to enhance food security and poverty reduction.
He told the association to work with district authorities in the identification of animal tracks to facilitate grazing.
While calling on livestock owners to be vigilant, the governor challenged them to invest in the provision of portable drinking water for cattle to enhance sustainability and promote animal health.
Ebrima Bah, regional president of North Bank Regional Livestock Dealers Association, emphasised the need for authorities to support in identifying cattle tracks.
He said this would contribute to the attainment of peace between cattle and crops farmers.
Tamba S Kinteh, national treasurer of the association, lauded the Gambia Livestock Marketing Agency for promoting animal health and production.
Read Other Articles In Article (Archive)