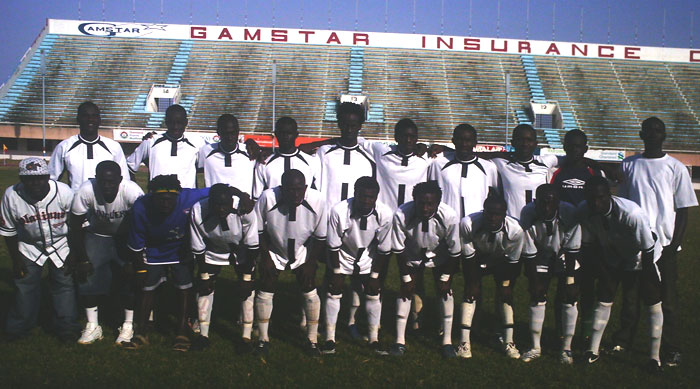 Linguere F.C on Saturday 29thNovember 2008, ended their trophy drought with a gilt edged victory over their opponents Ron-Mango. They wonthe game 4-3 in a post match penalty shootout after the game ended in a 2-2 draw after 90 minutes.
The two heavyweights clashed in the 2008 Bakau league final played at the Independence Stadium.
The final produced a befitting performance to the reputation that traded the names of these two teams in history of Bakau football.
Ron Mango took the lead as early as the 5thminute of the first half after an individual solo run by Pa Amadou Jagne from the left flank. He then neatly squared the ball in the goalmouth of Linguere F.C for Malamin Cham to give Ron Mango the lead.
Linguere F.C reacted swiftly to what is termed "a wake up call". The Linguere skipper Yankuba Jammeh curbed the ball in the mid-field making a one to one passing movement that caught the Ron Mango defence cold, allowing Linguere F.C's big striker Kawsu Jammeh to rocket the ball into Ron Mango's net to level the score.
After the interval, Ron-Mango F.C slowly developed counter- attacks from the defence, using their flanks to swing in curling crosses and this strategy pay dividends when a Samba Tamba cross picked out Pa Amadou Jange, who lobbed the ball into the net.
A few minutes before the end of the game, Ron Mango's defence made a dismal mistake when a lack of communication erupted between the goalkeeper and the defence to allow Linguere to benefit from that horror and level the score to 2-2.
In an interview with Pointsports shortly after the game, the head coach of Ron Mango, Alhagie Drammah entirely retired to faith, saying that, "in a game there must be a winner and a loser". He further said that they are going home to train hard for next weekend's knockout final to be played between them and Seaview.
For his part, the head coach of Linguere F.C, Kebba Touray, expressed his delight after waiting for ages of life to see him return to winning ways. He adduced that the win was owing to hard work, perseverance and commitment, which, he added, helped them to achieve this success. He vowed to maintain the momentum.
As winners Linguere received a giant trophy and cash prize of D12, 000 while Ron Mango went home with D8, 000 as a consolation prize.
Read Other Articles In Article (Archive)