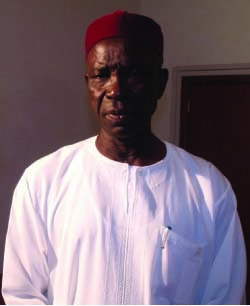 Alhajie Momodou Dibba, president of the Gambia National Olympic Committee (GNOC), has called on the country's sports fraternity, especially those sporting associations affiliated with the Olympic Committee, to put any individual interests aside and work towards taking sport to higher heights.
Dibba, who read a 17-page statement on the occasion of the Ordinary Session of the GNOC's general assembly held at the weekend at the GNOC House in Kanifing, took the presidential hot seat last February following months of tempestuous campaign in the race to claim the GNOC top post.
He faced a tough competition from experienced sports personality Alhajie Abdoulie Baks Touray, who controversially pulled out of the race shortly before the ballot, citing unconstitutional irregularities as the reason for his decision to boycott the election.
The Independent Electoral Commission was in no mood to call off again the proceedings and Dibba eventually proceeded to win the election thanks to the backing of the majority of the sporting associations.
Shortly after being announced winner of the GNOC presidential position, Dibba quickly jumped at a prospect of urging the entire sports fraternity to forget about their differences and come together to work collectively in the interest of sports development in the country.
Speaking at the weekend's assembly, the veteran sportsman once again resumed his call on the sports associations to consider putting the collective interest of the Gambian people at the expense of what he called their individual interests in a bid to help in improving and promoting sport at all levels.
"The election is past and gone what we need to do now is to forge ahead with great things in sport and sports development," Dibba told the assembly.
"Let us come together in solidarity to drive our collective aspiration for sports development to higher heights."
His presidency has still not been recognised by some sporting associations notably the Gambia Cyclist Association, in whose congress his representative was kicked out.
Read Other Articles In Article (Archive)