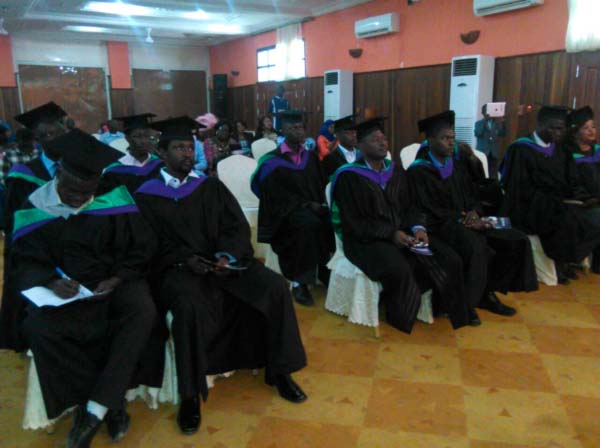 Students of LEEDS Beckett University in Ghana, Sierra Leone and The Gambia yesterday graduated with MSc degrees after completing three years of studies in public health.
The graduation ceremony was held in The Gambia at a hotel in Kololi where the students were presented with their degrees.  They are the 3rd batch to graduate from the subsidiaries of LEEDS Beckett University in UK.
LEEDS university has been operating in The Gambia since 2007 and almost 100 students have studied there for MSc health promotion and environmental health. 
Sue Sherwin, Head of School for Health and Community Studies, said the graduation was to celebrate the achievement of the students who have successfully completed their studies in public health.
She said the Gambian scholars as well as the University of The Gambia have been supportive to LEEDS university MSc public health programme.
"I would like to thank our Gambian colleagues for the ongoing support of students studying MSc health promotion and environmental health," she said.
The graduating students will help in fostering The Gambia's health sector by delivering expected services to the people especially in the area of public health, Mrs Sherwin explained.
Modou Njai, director of health promotion under the Ministry of Health, said before coming of LEEDS university, the ministry had few numbers of people specialised in health promotion.
But now there people who have graduated in the discipline and are serving the country, he added.
Deputising for the Minster of Health and Social Welfare, Mr Njai said building the capacity of the people will help in strengthening the community-based interventions in areas like immunisation and environmental health.
He told the graduates: "Make sure you focus on intersectoral collaboration, focus on community development approaches, focus on community involvement and all participatory approaches that you can be able to use to change the behaviour of people."
Tamsir Cham, in his vote of thanks on behalf of the graduates, said the graduation "is indeed a momentous event" that marks the end of one aspect of their lives but the beginning of another.
He urged his fellows to make best use of what they were thought and deliver to expectation.
Mr Cham also thanked the management and staff of LEED Beckett University as well as that of the University of The Gambia and the donors who foot the bill of the MSc programme.
Read Other Articles In Article (Archive)