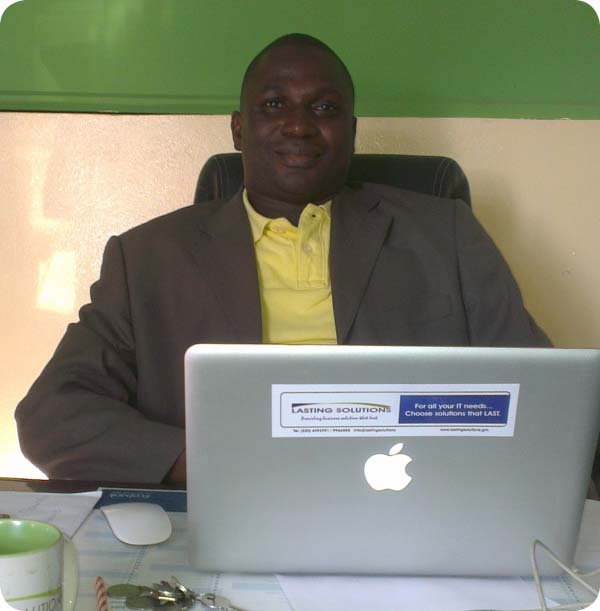 The Managing Director of Lasting Solution Company Limited, Njundou Fatty, has outlined his company's commitment to empowering Gambian youths with the necessary knowledge in ITC to become more enterprising citizenry.
Fatty, who was speaking in an interview with our reporter on Wednesday at his office on Kairaba Avenue, said that looking at the importance of technologies and the scarcity of ITC in this country, Lasting Solution Company was set up by threetalented Gambian youths, who include himself, Alagie Mbowe, business development officer, and Abdoulie Sowe, director of operations.
According to him, they deem it necessary to share their knowledge and experience with the Gambian citizenry, particularly in ITC, which remains very critical.
Talking about the progress, achievement, lapses and their business strategy plans for 2014, MD Fatty explained that the rationale behind the setting-up of the company was that they felt that nowadays, technology is very important and that The Gambia as a nation can only develop or progress rapidly far through venturing into technologies.
"We believe that as young enterprise, Gambians have a responsibility to help in the development effort of the country," he stated.
Lasting Solution, he added, has a lot to give back to the country in terms of sharing their knowledge with the rest of the people who are interested in taking up a lifetime business in ITC.
Based on that, he said, the three partners of Lasting Solution Company, spearheaded by the managing director, decided to form the company.
"We are into several activities on software development, developing and designing software, such as payroll system, human resources, system integration, as well as computer sale and repairs," Fatty stated.
"We are happy to say that Lasting Solution Company is one of the leading companies in this country as far as hardware maintenance is concerned."
He expressed satisfaction with the level of partnership between his company and their customers, saying their operation base is a clear manifestation of Lasting Solution's commitment in giving out the best to its customers and the general public.
Fatty also said Lasting Solution is also active in training and capacity building, which, he said, is very critical and of essence to any institution.
"We believe as citizens, we can develop fast if we consider our youthful population," he said, adding: "We should empower the youths with the necessary knowledge required for them to be more productive."
Read Other Articles In Article (Archive)