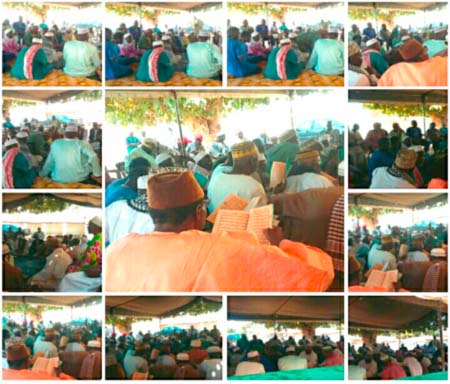 The people of Lamin village have organised a Quranic recitation to pray for the wellbeing of the new government headed by President Adama Barrow.

Speaking on the occasion, held at the Lamin Central Mosque, the Paramount Chief, Alagie Demba Sanyang, said according to tradition he and his chiefs are always obliged to be in support of the government of the day.
''That's why when this matter came, I consulted all my 40 chiefs in The Gambia, and we all agreed to go back to Allah Almighty and ask him to pour down his mercy on our new head of state Adama Barrow and his government,'' he said.
"Today, the Seyfo of Kombo North, my humble self and all my villages, 32 in number are all here represented by their imams to pray for Adama Barrow and the country," he said.
The Paramount Chief added that the Quranic recitation would be an annual event not just in his native town of Lamin but also in other regions of the country.
Alhagie Salim Darboe, elder brother of Lawyer Ousainou Darboe, deputizing for his brother, thanked the people of Lamin, the Paramount Chief and alkalolou for organising the religious gathering to beseech the Almighty God to shower his blessings and guidance on President Adama Barrow and his government.
Mrs Binta Sabally, the lady President of West Coast Region, said a change of administration has occurred and she would always be in full support of the new President.
She also urged Gambian women to be in full support of the new government because their policies would be beneficial to all and sundry, especially their children.
Mrs Sabally, an elder sister to Momodou Sabally, hailed the elders of Lamin, alkalolou, imams and chiefs for convening the gathering to pray for peace and prosperity for the nation and the new regime with its new leader Adama Barrow.
The Imam Ratib of the Central Mosque of Lamin and Alkalo of Lamin both said they could not have better registered their gratitude to God for peacefully ushering in a new government than to increase their worship and praise of him by way of Quranic recitation.
Read Other Articles In Article (Archive)