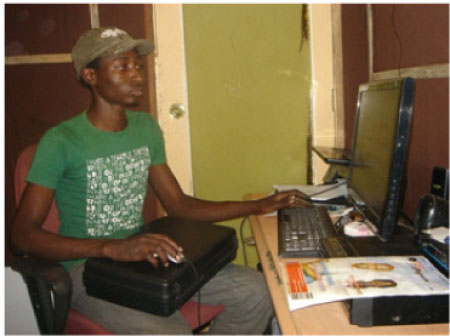 In our today's edition, we feature a young Gambian entrepreneur and CEO of Memoir Group Ltd.
Lamin Kanteh is the proprietor of the famous Studio Kanteh Printing Palace in Wellingara.
Born in 1990 in Kombo Wellingara village, West Coast Region, Kanteh attended Sinchu Baliya Lower Basic School and Abuko Upper Basic School before enrolling at the Gambia Senior Secondary School.
He established a business known as Studio Kanteh Printing Palace in 2007 and specialises in designing, printing and publishing.
He has worked hard to expand the business by also running a newsletter called The Eye and later in 2010 turned it into a magazine.
The magazine's objective is to enlighten young people about issues affecting their lives and motivate them to be productive citizens.
Kanteh, one of the country's young innovative entrepreneurs, established the 1st online Gambia TV channel in 2012 called EyeAfrica TV (www.eyeafrica.tv) with the aim of promoting the positive image of Africa.
He said the Western media is not doing much in portraying the positive image of Africa and "as Africans we need to tell our own positive stories through these kinds of initiatives.
Kanteh now runs the three businesses - Studio Kanteh Printing Palace, The Eye Magazine and EyeAfrica TV - under a new parent body called Memoir Group Ltd.
With the EyeAfrica, he said, they are encouraging young people to become presenters, reporters, editors and other functionaries within the profession of journalism, printing and publishing.
Lamin Kanteh has also founded a football team named after his business in which he is also investing. The team's main objective is to promote sport and talented young people, he said.
The young entrepreneur currently employs 12 young people as full -time staff and apprentices all under the age of 30.
He has also trained and graduated about 15 young Gambians in the field of art who are now engaged in their own meaningful ventures.
Kanteh, also a youth volunteer, has worked and supported many youth organizations and networks in the country.
In 2009 the national organizing committee of NAYCONF contracted him to print NAYCONF Daily, a newspaper published by Gambia Government during the weeklong event, which was highly successful.
He won in 2012 the Youth Entrepreneurship Award of NAYCONF and was also contracted to do the publication of the newspaper the same year.
His business was set up without the support of anyone, the young Gambian said. It is proceeds from his artwork he used to set up the business and through hard work and struggles he was able to reach the level he is today. "Thank God today it is successful," he says.
Kanteh has limited time for sleep, as he is always busy at his workshop working, supervising staff. He is also looking forward to establishing The Gambia's first youth owned FM station.
He wants to expand his business to other parts of the country and possibly to other countries in the sub-region such as Senegal, Guinea Bissau and Sierra Leone.
"I used to find it very difficult to secure certain contracts, which I had to pre-finance. Because of the resource constraints I did not get such contracts, but I still have faith in God and I trust that one day I will secure such bigger government contracts," Kanteh says.
Kanteh, who started his business with only one computer and a printer, is looking forward to creating more job opportunities for the youth anytime meaningful support comes his way.
For now he continues the struggle unabated.
Read Other Articles In Article (Archive)