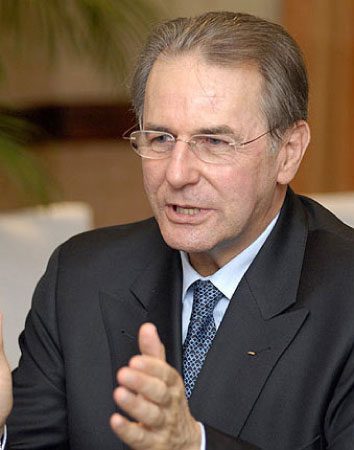 On February 16, 2012, the International Olympic Committee (IOC) President Jacques Rogge, along with 750 delegates from 140 countries and top national and international organizations including the media convened in Los Angeles for the IOC's 5th World Conference on Women and Sport.
The event is supported by the United States Olympic Committee (USOC) and the Southern California Committee for the Olympic Games (SCOOG) under the theme: "Together Stronger: the Future of Sport".
This year's conference will serve as a forum to discuss a range of subjects associated with efforts to strengthen women's representation on the sports field and in leadership positions.
It also coincides with the 40th anniversary of Title IX, the 1972 landmark federal legislation milestone that opened the door for girls and women to participate in high school and college athletics.
"We are pleased to be returning to a city with such great Olympic history," said IOC president Jacques Rogge.
"As we join the leaders of the Olympic Movement in working towards the common goal of advancing women in sport, our memories will be taken back to those magical two weeks in 1984 when the world turned its eyes on Los Angeles," he said.
In her remarks on the occasion, Anita DeFrantz, senior U.S. IOC member and chair of the IOC Women and sports commission, said: "This critical conference falls during an especially significant time, as we reflect on the impact that title 1X has had in this country.
"While we have seen a substantial growth in female participation in all aspects of sport, we recognize that there is more to be done and this conference will provide a forum to share ideas among the worldwide Olympic Movement."
The global event is co-chaired by two-time Olympic figure skating medalist Michelle Kwan and Hollywood producer Frank Marshall, under the direction of DeFrantz.
Said USOC Scott Blackmun, at the conference: "'Together stronger' really reflects the purpose of this conference.
"By gathering some of the most influential and prominent leaders both men and women from around the world, we hope to use collaboration and partnership to further advance the idea of equality in the Olympic Movement and beyond."
Beyond numerous notable IOC members, the long list of distinguished speakers and participants includes Rogge', actress Geena Davis, Lord Sebastian Coe, president of the London Organizing Committee for the Olympic and Paralympic Games, Billie Jean King, tennis legend and women's equality advocate, Nancy Hogshead-Makar, Olympic medalist swimmer and Title 1X expert, Donna de Varona, Olympic champion swimmer and a host of prominent top Olympians and Paralympians.
The event officially opened at J.W. Marriott Hotel at L.A. Live with a kickoff dinner and celebration of the 2012 IOC Women and Sport awards, during which Los Angeles Mayor Antonio Villaraigosa and a special Hollywood guest were hand.
Read Other Articles In Article (Archive)