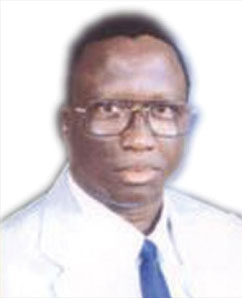 The body of the late Kukoi Samba Sanyang, the author of the attempted coup d'etat in The Gambia in 1981, was early Saturday morning repatriated to Dakar from Bamako, the Malian capital, where he died from an unspecified illness on Tuesday.
The repatriation was sponsored by the Senegalese government, about two months after he was expelled from Senegal by the Senegalese authorities.
The body is right now kept in a mortuary in Dakar, where it is waiting for a decision by his relatives as to where he is going to be buried.
Sources indicate that while some members of the family want his remains to be buried in his home village of Wassadung in Foni, others are of the view that permission may not be granted by the Gambian authorities for that to happen.
Therefore, it is not yet clear as to where he will be buried.
Meanwhile, the Senegalese Prime Minister Abdoul Mbaye on Saturday denied claims by some human rights bodies that Kukoi had acquired Senegalese citizenship and, therefore, it was wrong for Senegal to expel him from the country.
Prime Minister Mbaye was quoted by Senegalese Radio and Television (RTS) as stating that Senegal will never expel a Senegalese citizen.
While Amnesty International-Senegal has published some of Kukoi's documents claiming that he had acquired Senegalese citizenship in 2009, the Senegalese government has disputed the authenticity of those documents.
Read Other Articles In Article (Archive)