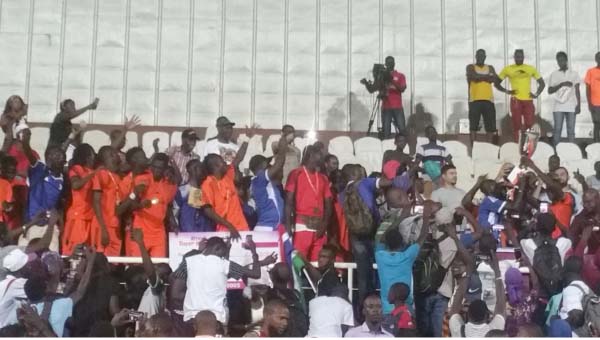 Kombo East zonal team has defied all odds to be crowned this year's Africell-sponsored Zonals Super Nawettan tournament after defeating Serrekunda West by a goal to nil in the final played at the Independence Stadium in Bakau, on Saturday.

Modou Kujabi scored the only goal for Kombo East in the 67th minute to ensure his side secure their first crown of the tournament in their third appearance.
Kombo East, who were termed as underdogs of the championship defied all odds to be the champions of the tournament after conceding only two goals in the entire tournament.
They were in a very difficult group but went on to beat Brikama twice to graduate from an underdog to become one of the favorites of the tournament.
As winners, Kombo East were awarded a giant trophy, medals and a cash prize of D200, 000, while the runners-up Serrekunda West were given silver medals and a cash prize of D100, 000.
Speaking in an interview with reporters shortly after the game, Momodou Jarju, Kombo East head coach expressed delights for wining this year's Super Nawettan championship, noting that their success secret is oneness.
"This year's success is all about hard work, determination and unity. This is not my own effort but both my technical side, fans and the community of Kombo East at large," he said.
He said his players are always hungry in front of the goal post, saying that the team was so hungry to win the tournament since the start of the championship. "I always put to my players that winning the tournament is not about me as the head coach or them as players, but it is about Kombo East," he went on.
Coach Jarju said if any team wants to be successful, the spirit should be oneness and their achievement was great for the entire community of Kombo East, saying even if he does not stay as coach, people of Kombo East are already grateful to him for his success.
Modou Lamin Gassama, Serekunda West head coach expressed disappointment for losing the final, noting that they created lot of goal scoring chances but didn't capitalise on them.
"We have been very discipline in the first half, creating lot of chances but in the second half we were a bit sloppy which was why our opponent took advantage of their chance to score the only goal of the match," he said.
According to him, the only problem faced by them during the final was not taking their chances, adding that if any team wants to win a game, it must take its chances.
Brikama was also awarded the third place after their 3-1 victory over Manjai and they went home D50, 000, 00, while fourth place Manjai received D25, 000, 00.
Meanwhile, the best player of the tournament goes to Lamin Jatta of Manjai, the most discipline team goes to Banjul, the best fan base went to Kombo Central II, top goal scorer Papis Nyassi of Brikama, Best goalkeeper goes to Babucarr Camara of Kombo East.
Read Other Articles In Article (Archive)