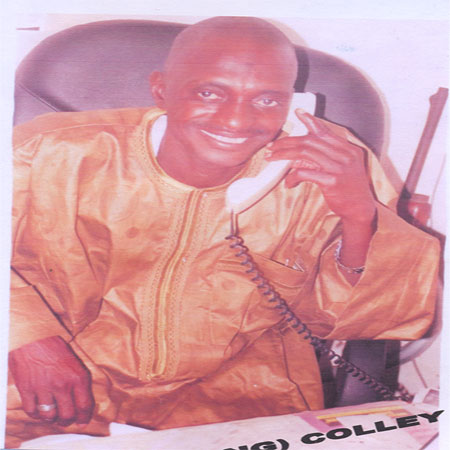 Lamin King Colley, president of Brikama Youth and Sports Committee (BYSC), has tendered his resignation as the president of the BYSC with effect from Tuesday, 21 December 2010.
Colley, it would be recalled, some time ago made a similar move but it was turned down by the BYSC executive.
He told Pointsport yesterday that because of his position as the 2nd vice president of the Gambia Football Association he decided to quit his BYSC position to execute his GFA duty as expected.
In a letter sent to Pointsport yesterday, King Colley informed the BYSC that he was resigning with effect from 21 December 2010 after nine years of active and remarkable service.
The letter reads:
"Mr Secretary General, you may recall, sometime ago that I did tender my resignation to you, which was overruled by your executive.
Based on this fact of constitutional requirements, which of course I accepted; it is based on the fact that it has fallen in the Nawettan season with limited time. I decided to wait until after the completion of the Nawettan, which is now due. On that note, I now deeply regret to inform you about my decision to resign as the president of this important committee.
Please General Secretary, extend my regret to all the executive members, and I shall work with you for the development of sport and youth empowerment in this town, Brikama - my motherland - and West Coast Region as a whole.
Forgive me in any way that I may have offended you during my tenure in office and I have also forgiven you for any offence you may have caused me."
During his impressive spell as BYSC president, King registered numerous successes ranging from the establishment of a formidable first division football club, Brikama United, that is currently taking part in the country's top flight football league; the creation of an artificial turf in Brikama with two pavilions, a conference hall and an office, basketball and volleyball lawns; table tennis set; 10 golf softballs; wheelchair for the Paralympic committee; Makasutu women football team; plot of land situated along Kassa Kunda highway among other significant contributions.
Meanwhile, Pa Manneh, another BYSC executive member, has also called it quit citing workload as the reason for his resignation.
Read Other Articles In Article (Archive)