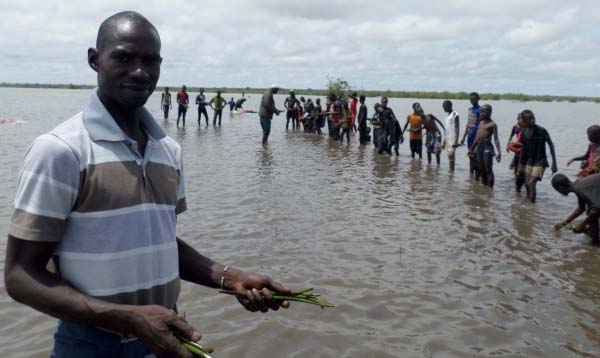 The United Nations Development Programme (UNDP) mangrove restoration expert has called on the community of Kiang Kantong Kunda to plant as many trees as possible, particularly mangroves.
Hatab Camara said this will help restore the already lost mangrove vegetation that the Kiang West village used to enjoy for years.
The coastal resilience project is funded by the United Nations Development Programme through the Global Environment Fund.
Mr Camara made this remark during the project`s mangrove restoration planting exercise in Kantong Kunda.
He said mangrove serves as an environmental indicator and also provide a home to many aquatic lives, a breeding spot for juvenile fish and, above all, a carbon sink.
The UNDP mangrove restoration expert noted that along the Bintang Bolong tributary, from Bwian in WCR to Sandeng in LRR, there is a presence of high mortality rate of mangroves and salt intrusion .
"In an effort to help those communities get back to their livelihood support systems, the project decided to restore the lost mangroves," Mr Camara said.
"We are happy to assist local vulnerable communities with technical support, training and sensitisation in any way possible, but the ultimate responsibility of doing the work resides with the villagers themselves."
He said planting mangroves is not difficult provided that one observes some basic guidelines.
Molifa Ceesay, a member of Kiang Kantong Kunda forestry committee, said planting mangroves is to help the community regenerate their vegetation cover, and get ready to fight climate change.
Mr Ceesay, who was locally coordinating the exercise, called on the younger generation to positively contribute to the restoration of the lost forest cover to reduce the stress loaded on the remaining diminishing forest cover.
He urged the community to jealously guard their forest, and use it sustainably for the benefit of future generations.
The village women's leader, Mabinta Ceesay, said they have taken it upon themselves to galvanise popular will for the restoration of the entire wetland area.
She said with time and through their mobilisation, the remaining unplanted area of the wetland would be restored. 
Read Other Articles In Article (Archive)