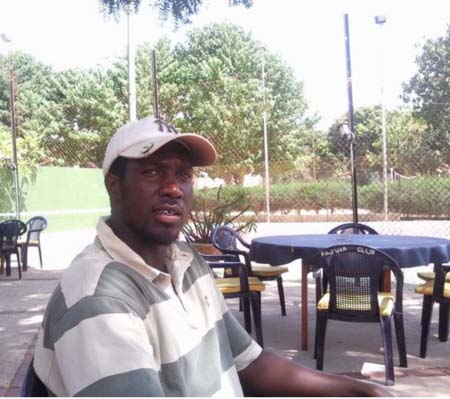 Dodou Kassama, winner of the 2014 Gambia Open and Pro-Am golf competition, has expressed optimism of defending his title.

Speaking to this paper on Tuesday at the Kololi Beach Club during the cocktail draw for the 2016 Gambia Open organized by the Gambia Golf Association, Kassama, a professional Gambian golfer, said he is expecting to play his best game in the tournament to defend his crown.
Kampo, as he is referred to by friends, also expressed delight with the return of the tournament which could not take place last year.
He also commended the GGA for their partnership with Kololi Beach Club, which is one of the golf courses to the tournament, to take place from 12 to 18 December, saying such initiative is good for the promotion of golf tourism.
Kassama, who is one of Gambia's best golfers, described the Kololi Beach Club golf course as small but tough, saying one really needs to be focused on the course to be able to do well on it.
"The tournament is good for the Gambian game and we commend GGA for once again staging it," he went on, while wishing everyone a good tournament.
Yusupha Tamba, a promising Gambian professional golfer, said this year will be different for him as he had been really training hard for the past two weeks to fine-tune his game.
He recalled that during the Qatar Open he was leading at the end of the first day but played badly on the second day, saying that was a mistake he did not want to make this time around.
It would not be easy, he noted, but he would put himself up in other to win the title.
Lamin Jammeh, a senior Gambian professional golfer, said he is looking forward to finishing in the top four, as he is in top form.
He observed that most of the professionals are young but he is hopeful of overtaking some of them to collect one of the top four prizes.
Mr Jammeh described Kassama as one of the best players in The Gambia at the moment, saying he is prepared to push him as he used to do during the weekly golf competitions being staged by the GGA for professionals.
"Let young professional golfers look out for me this year," he warned.
He described the idea of playing the tournament over two golf courses as "interesting" and therefore thanked the GGA for the initiative.
He concluded by thanking all sponsors of the tournament.
Read Other Articles In Article (Archive)