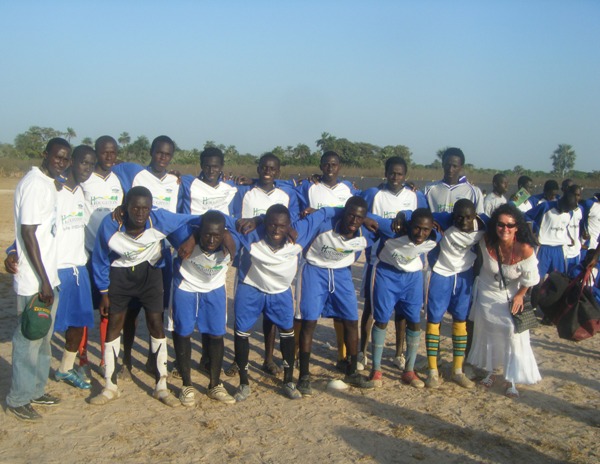 Barely a few days after making a handsome donation of sets of sports Jerseys and footballs to Young Arsenal Football Club in Lamin village, Karmic Angels returned on Tuesday to Gunjur village in Kombo South District to make a similar donation.
The Gambia-based international charitable organization donated three sets of football jerseys and several footballs including pumps to Seaview Football Academy now called Gunjur Community Football Academy, at a presentation ceremony held at the Gunjur Football Field.
The donated items were meant for three junior teams of players aged between 10 and 12; Intermediate category players aged between 13 and 15, and senior category players aged between 16 and 17, all of Gunjur Community Football Academy.
Speaking at the presentation ceremony, the head coach of the senior team, Hatab Jobe, expressed appreciation over the gesture, describing it as timely considering the need for jerseys by both teams.
"The teams comprise different junior, intermediate and senior sides but they all fall under the Academy, Jobe said on Tuesday. "I met with Karmic Angels this year in March and they promised to provide the Academy with football gears and today I am happy that they have fulfilled their promise."
He added that his Academy is a community-based team trying to develop the tactics and technical ability of its footballers so as to help them compete at higher levels, adding that their aim is to see the young lads at professional level.
He believes that the donation will help them to cope with the current situation and will motivate young players to continue their career, saying such a gesture will go into the annals of their club history.
Stephanie and Alan Turner, who co-founded the Karmic Angels, said the donation was made possible through Everton Football Club in the UK.
The duo pointed out that the little they have will be given back to the Gambian community as a testimony of their satisfaction with the skills the children showed during the presentation.
Read Other Articles In Article (Archive)