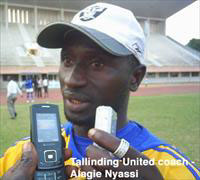 A Serrekunda East Selection zonal team will today play the national U-23 Olympic team coached by Paul Put in a friendly game at the Serrekunda East Mini-stadium at 4:30pm.
The secretary general of Serrekunda East Sports Development Organisation (SESDO), Alagie Nyassi, says the test game is part of Serrekunda East Selection team's build-up for the forthcoming Super-Nawetaan.
It is also part of their efforts to present a very strong squad to defend their title as champions of last year's zonal championship, he says.
The game is also part of Coach Paul Put's efforts in trying to test the physical and mental ability of the U-23 team in preparation for their first leg in the 2012 London Olympic qualifier away to Benin in March 2011.
He stated that last year they organised a similar test game with the national senior team, which was very successful even though they lost 2-1 despite putting up a very good performance.
Nyassi also says the test game is geared towards raising funds, which will be used for both the Serrekunda East and the U-23 teams, because a percentage will be given to the U-23 team to be used as transport fares.
"This test game is part of our contribution towards helping the Gambia Football Association (GFA) and the National U-23 team to achieve their dream, as the Government and GFA cannot do it all alone," he stated.
Nyassi said: "Our aim at Serrekunda East is to develop sports in the country; so having been given this opportunity to play with the U-23 team who are a bit above our players will motivate the players to push hard and I am sure we will give the U-23 team a very good run to know the areas they need to adjust in their team."
Nyassi said they have selected the best players from the Serrekunda East Zone for the game.
He also urged all football lovers in Serrekunda East and beyond to come out in full force to support the teams.
Tickets for the friendly are pegged at D10 and D5.

       
Read Other Articles In Article (Archive)