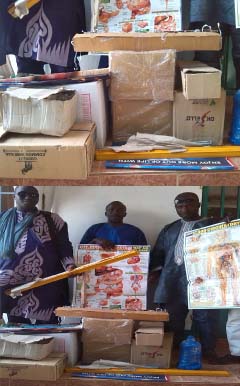 Kaira Nyining Federation, a local partner to ChildFund, Friday handed over science and laboratory materials worth D112,750 to Pirang Senior Secondary School, at a ceremony held at the federation's headquarters in Faraba village in the Kombo East district of the West Coast Region.
Speaking at the presentation ceremony, the federation's sponsor relations officer, Yankuba Manneh, highlighted the importance of the gesture, stating that his organization aims is to complement the government's efforts toward the provision of quality education for all, especially in the area of science.
He called on parents of sponsored children to advise their children to submit their reply letters on time.
This, he noted, has been the federation's greatest challenge, which has a direct bearing in not only the implementation of their programmes, but also attainment of the federation's desired goals.
The federation's board chairman, Lamin E. Sonko, noted that the materials are meant to enable the students develop laboratory skills and scientific thinking abilities through practical activities, in order to better equip them.
The federation's programme development officer, Karamo Jatta, said Kaira Nyining Federation is poised to help the science students with a solid foundation.
A representative of the region 2 education directorate, Jim Jeng, highlighted the importance his ministry attaches to science education, while encouraging students to avail themselves of the vast opportunities being offered to them.
He stressed the importance the government attaches to the improvement of the science sector, while urging students to take their education seriously.
He also pointed out the need for students to study rigorously, so as to become productive citizens. 
The principal of Pirang Upper and Senior Secondary School, Molifa Daffeh, thanked Kaira Nyining Federation for providing such valuable materials, adding that there are requirements by WAEC to have the needed materials and for qualitative and sustainable education.
Having science as a field, he added, they needed to have standard materials like the donated ones.
Daffeh assured the donors that the materials would help the school to produce very good scholars in the area of science. 
Read Other Articles In Article (Archive)