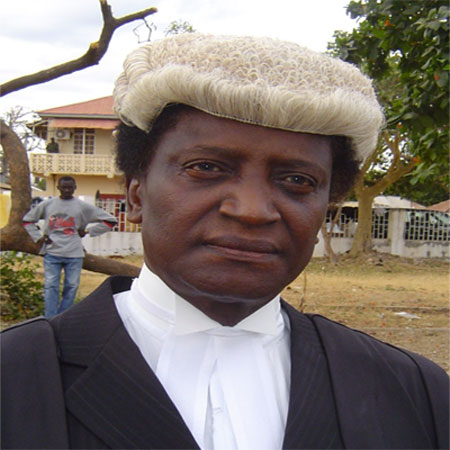 Edward Gomez, The Gambia's Attorney-General and Minister of Justice has said that "while there has been marked progress in terms of improving democracy and the human rights situation in some areas in the continent (Africa), a lot more remains to be done in other parts."
According to Mr. Gomez, human rights violations continue on a daily basis.
"Some countries in the spotlight are Niger, Somalia, Guinea Conakry, and Sudan, to name but a few," he added.
Justice Minister Gomez maintained that Africa, therefore, has a long way to go in relation to its development and human rights record.
"Nevertheless, I am optimistic that we shall overcome the hurdles if we inject more spirit and commitment, as well as belief in our dreams," he said.
Mr. Gomez made these remarks on Saturday while officially opening the three-day NGOs forum, which is preceding the 47th Ordinary Session of the African Commission on Human and Peoples' Rights, currently underway at the Kairaba Beach Hotel.
"The main aim of the NGOs forum is to foster closer collaboration among NGOs and with the African Commission on Human and Peoples' Rights for the purpose of promoting and protecting human rights in Africa," he observed.
"The African Commission, is indeed, very important in the work of human rights in Africa. It is the only body mandated to promote, protect and interpret the African Charter on Human and Peoples' Rights; and it is the main regional instrument that directs the rhythm of other African regional instruments on human rights," Mr. Gomez further noted.
In his view, it is pertinent that governments and NGOs work together, and to bear in mind the responsibility attached to this relationship, noting that "there is strength in unity."
"It is only through concerted efforts that we can overcome the challenges facing our countries, regions and our continent at large," he said.
The Gambian Minister noted that NGOs have played and continued to play unprecedented roles in society, which he added, range from setting international human rights standards, documenting human rights violations, to their advocacy role in lobbying for the effective enforcement of the provisions enshrined in human rights instruments.
"NGOs are, therefore, increasingly becoming indispensable. In recent years, we have witnessed a multiplicity in the numbers of NGOs in the African continent, which undoubtedly manifest the increase in pluralism and democracy, especially when we take stock of the fact that authoritarian and paternalistic governments have either outlawed or restricted NGOs in their operations," he said.
"My government recognises the efforts of the African Centre for Democracy and Human Rights Studies, in facilitating this forum, to enable NGOs to fully participate in the work of the African Commission, which is mandated to oversee the implementation and interpretation of the rights and duties set up under the African Charter on Human and Peoples' Rights," he added.
In her keynote address, the Executive Director of the African Centre for Democracy and Human Rights Studies (ACDHR), Hannah J. Forster, envisaged a daunting task ahead as human rights advocates, and called for steadfastness.
"The challenges are immense, but as human rights NGOs and civil society organisations, we must continue to live up to the ideals we preach in order to consolidate the foundation already laid - of a perpetual struggle against impunity and injustice, and thereby promote peace and liberty," she said.
She further posited that a change in attitude towards human rights and democracy had achieved observable changes in priorities among governments, as well as at the international level.
According to the agenda of the forum, there will be several panel discussions, among them, United Nations Resolution 1325, the African Union Protocol on the Rights of Women in Africa, and the African Union Charter on Democracy, Elections and Governance, amongst others.
Read Other Articles In Article (Archive)