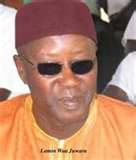 Former opposition strongman and now minister of Regional Administration, Lands and Traditional Rulers, Lamin Waa Juwara, has said there is a lot to celebrate as the country prepares to mark the 18th anniversary of the July 22nd Revolution that ushered in the Jammeh administration in 1994.
Waa, once seen as a strong critic of President Yahya Jammeh and the APRC regime, told The Point in an interview yesterday that Gambians should thank God for what we have been able to achieve, thanks to the Revolution.
July 22nd, as the day has come to be called, was that fateful day in 1994 when some military officers led by the then Lieutenant Yahya A.J.J. Jammeh toppled the Progressive People's Party (PPP) government of Sir Dawda Kairaba Jawara in a bloodless coup.
The day is seen by many as a moment of reflection on the achievements and shortcomings of the APRC government under the leadership of President Jammeh.
"Tremendous achievements have been made in all spheres of life in this country. It is very commendable that the country is steady, peaceful and people are development-oriented," Waa opined.
According to the veteran politician, there is not a single Gambian that today feels an inferiority complex because, as he put it, despite our size, the role President Jammeh has been playing internationally is very commendable, especially regarding our relationship with our neighbours and beyond.
"Today Gambians can boast of a university of international repute in their home soil, and education has been brought to the doorsteps of each and every Gambian," he stated.
What exists today, he said, is the reality, adding that before the dawn of independence, many people thought that The Gambia was an improbable nation; that we were too small, but today, nobody sees us that way anymore.
"We have collectively achieved a lot, and the July 22nd Revolution is for every Gambian and I congratulate all Gambians, including the President, my colleagues in cabinet on this day that has brought us a lot of achievements.
On comments by some members of the opposition that the day is not worth celebrating, Juwara responded:
"It is not worth celebrating? What else do they want us to celebrate then? Do they want us to celebrate the Empire Day when the colonial masters lined us to sing songs that we were slaves? They made us to sing songs that they will never be slaves, but we are slaves."
He noted that President Jammeh has been putting emphasis in all areas, and his back-to-the-land call is of significance.
"Today, almost every Gambian is associated with farming now more than ever before. He made the Gambian people very proud," Waa declared.
Read Other Articles In Article (Archive)