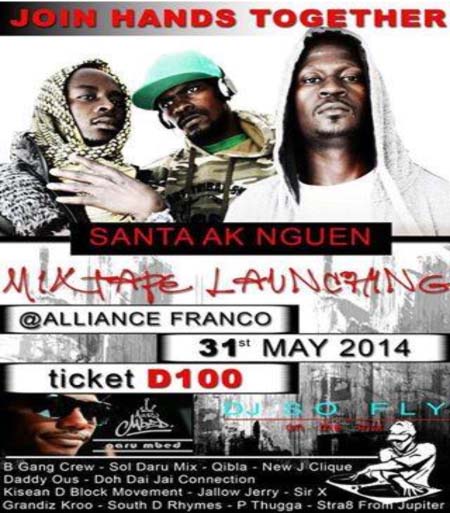 Join Hands Together (JHT) is set to launch a debut nineteen-track mix tape called 'Santa ak Ngoum' on 31 May 2014 at Alliance Francaise.
Kifa Baraham, a media consultant to Join Hand, told journalists on 13 May that the name Join Hands Together of the hip-hop group may sound strange to many, but the group has been on top of things and has been doing it in their own way for some time now.
He recalled Join Hands was formed in 2007 on the initiative of the trio stars, namely Pa Mamadi, a radio presenter, Kanfore and Normal, all have a common vision, which is to promote Gambian music globally.
Kifa noted that having specialised on hip-hop music for more than a decade now, the group, which has ever been determined to hold firm on their music, dropped their first single called 'Senegambia'.
"The single was recorded in 2007 at Revenge Studio by producer Jafarr, and after that the three old school rappers and hip-hop Spartacus have been practising hip-hop genre culminating into the launch of their mix tape project," he explains.
According to him, nowadays, they are a household name, especially in the Greater Banjul Area, due to their growing fan base.
"After working on numerous projects underground, Join Hands Together (JHT) as it is widely known, are set to launch their much anticipated mix tape by theend of this month at a grand spectacular launching to be heldat the Alliance Francaise," he said.
The nineteen tracks in the 'Santa ak Ngoum' album are thrilling songs of mix tape mastered at the "Heart Colds Records".
Pa Mamadi, a singer of Join Hands, said some of the singles in the promotion wererecordedat Negrophill Records by producer Maaw G, 'Goumm-goum' , while 'Face to Face',another hit song,was recorded at Heart Cold Records by producer Mab.
He said the other sound in the mix tape 'Santa ak Ngoum" has thrilling songs that music lovers will find interesting,adding that the mix tape was officially released in the market on 18February and within a short period of time it sold out almost three hundred copies.
Pa Mamadi calls on people to run out en masse to their mix tape launching, saying the new project marks another milestone in their quest to promote their music beyond the borders of The Gambia.
Read Other Articles In Article (Archive)