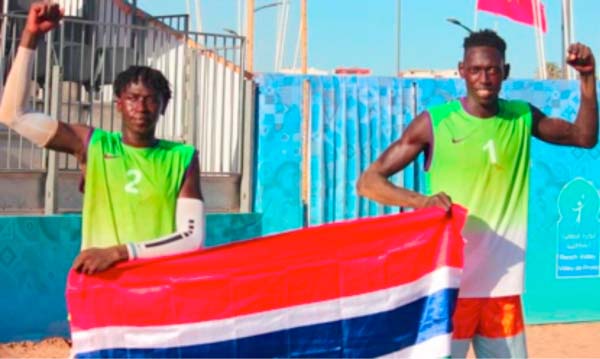 Sainey Jawo and Mbye Babou Jarra did not ease their way into their international beach volleyball careers, as most would. They didn't take a quick flight down to Qatar or any other competitions.

All the way from the little West African nation of Gambia, now in the gulf state of Qatar, the two Gambians recently had reach to the pinnacle of their career after winning the prestigious African Games gold medal in Rabat in 2019.
African beach volleyball champions will make a historic appearance in the FIVB Beach Volleyball World Tour of the 2019-2020 season with the 4-Star Katara Open that will run from March 9-13 at Katara Cultural Village in Doha.
"We're looking at it as if you're committing to a single elimination tournament on the other side of the world. It elevates your confidence in your team because you've got to be confident to do that," Jawo said.
The team of most interest, of course, is that of Jawo and Jarra, who are playing in their first 4 star event, the biggest event so far in their career and the second biggest world tour event globally. The duo already had played in the FIVB one star in Qatar and Iran. So now they're off to Doha, in a last-ditch effort to make a global history.
Depending on how they finish, they could use the winnings from Doha to earn valuable points or any other potential FIVB prior to the onset of the Olympic qualifiers. What matters to them, and several others in the field, is that they're out there, on the World Tour, testing the perimeters of their potential.
Their determined coach Mounir Ghellaimi, his charges are already world beaters and he believes the biggest thing for them will be to qualify Gambia to the 2020 Olympic Games. A lot of Gambians have that confidence in them, This 4 star is not the goal for Jawo and Jarra. But it's a litmus test to see if a future event may be possible.
Read Other Articles In Article (Archive)