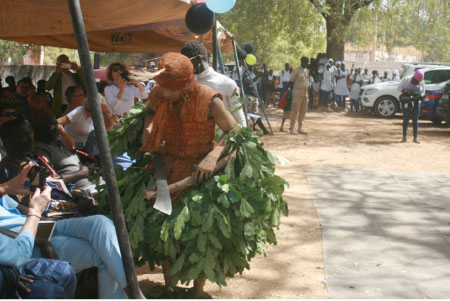 Thousands of people over the weekend flocked into the community of Janjanbureh to celebrate the third edition of the Janjanbureh Kankurang Festival.

The event, which was held from 17 to 19 January 2020 was designed to promote cultural heritage and attract tourism.
Senior government officials, international organisations and different traditional groups attended the event.
Delivering his official opening statement at the event, Hamat N.K. Bah, the minister of Tourism and Culture thanked all those who attended the year festival, noting that as a government, they made a pledge to the community of Janjanbureh the previous year, "and we said that government is going to support Janjanbureh to develop not only the cultural aspect of this community, but also the tourism."
Minister Bah added that government has fulfilled that pledge with the support of EU Assistance Programme, which he said is under Youth Empowerment Project (YEP). He added that the government has created the enabling environment with the Gambia Tourism Hospitality Institute to amass the support of the YEP project to train over 60 youths in the community.
"The Janjanbureh Kankurang Festival will be based on the significance of the Gambian cultural heritage as part of the National Development Plan (NDP) of the government of The Gambia."
Hassoum Ceesay, director general, National Center for Arts and Culture (NCAC), said the festival was a total dramatic forum in which people saw themselves in the world, adding that traditional African society festivals are organised to help the people to know more about their culture.
Ngone Panneh, who spoke on behalf of the project manager of Youth Empowerment Project (YEP), said the Youth Empowerment Project celebrates three years of partnership on the Janjanbureh Kankurang Festival, with the objective of enhancing development of Janjanbureh as a tourism destination; promote youths employment in the area of creative tourism while extending socio-economic and cultural tourism to rural Gambia.
Maimuna Sidibeh, who spoke on behalf of UNESCO, said: "our intangible cultural heritage is a bridge linking our past and our future, adding that the National Commission for UNESCO is pleased to be associated with the Janjanbureh Kankurang Festival organised by the National Center for Arts and Culture (NCAC).
Read Other Articles In Article (Archive)