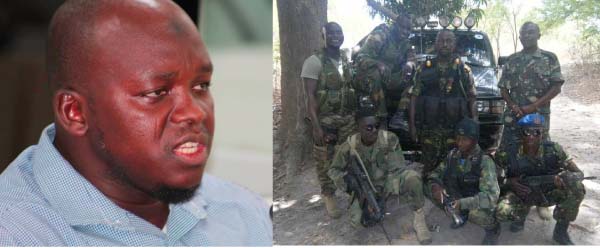 (Thursday 24th October 2019 Issue)
A former orderly to Gambia's exiled former President Yahya Jammeh and one-time member of the patrol team of The Gambia Armed Forces (GAF), Wednesday told the Truth, Reconciliation and Reparations Commission (TRRC) that it was Mr Jammeh who ordered his hit-squad (Junglers) to burn down the then Independent Newspaper.
Yusupha Sanneh recalled that at the time of the incident between 2003 and 2004, he was positioned at Kanilai, to conduct border patrol in protecting the territory from rebels entering the country and Senegalese army who used to operate in Gambian territory.
"One day, we were on patrol until around 3am and Saul Badjie drove us to Kanifing and said we should burn the Independent Newspaper," Mr Sanneh told the Commission in his testimony.
He added that before the incident, late Major Khalifa Bajinka and Sajor Jarju told them to be careful with the way they handle some of the orders given to them because if they did anything wrong, they may explain it one day.
"When we reached around Kanifing, we alighted and General Badjie was talking on phone and later said Jammeh had ordered them to burn the Newspaper."
Mr Sanneh said because of the advice the received from Bajinka and Jarju, he told them that he has a knee injury and went back into the car, but General Badjie told him that he was an idiot. "Saul Badjie and the rest entered the Newspaper with a gallon of fuel. I later heard shouting noises. I saw fire and saw people running. I also saw Sanna Manjang's shirt burning and we helped him but part of his body got burnt," he said.
He confirmed that during the operation, they were armed with AK47 and pistols just as they will always do whenever they are going for patrol.
He said government denied responsibility and conducted their own investigation in the matter. "I and Sheriff Gisseh, Michael Correa, Sana Manjang and Saul Badjie were the ones in that operation."
Mr Sanneh further explained that shortly after that operation, he was transferred to the Bravo Company at Statehouse and became the president's orderly. He added that it was not easy to be Mr Jammeh's orderly; one of them, Buba Jammeh was accused of stealing his money and he was dismissed with Wally Njie.
He said sometimes when Jammeh calls them on phone to give instructions, he would not speak clearly and if one dares to ask what he said, he will insult or sack him.
Read Other Articles In Article (Archive)