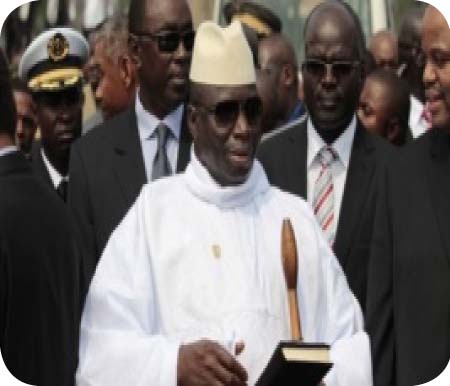 According to GRTS, President Yahya Jammeh has urged Gambians to be law-abiding at all times, especially during the election period.
He made this statement on Friday in Janjanbureh, where he warned all and sundry, saying anyone found wanting would face the full force of the law.
He warned potential perpetrators of violence, saying that in the 2016 elections they will be dealt with accordingly and shown no mercy.
He thanked the people of Central River Region for the warm welcome accorded him, saying the second phase of the rural electrification expansion project will address the limited power supply constraints affecting Janjanbureh and environs.
Government will adequately address within the shortest possible time their needs, he added.
He reiterated the call for Gambians to be righteous and God-fearing in all their undertakings.
Omar Sey, the Minister of Health and Social Welfare, disclosed plans to expand and increase the Janjanbureh health facility to a major health centre.
He emphasised calling on health sector workers to maintain a proper birth and death registration across the country.
"Government will provide ambulance services to some of the settlements in Central River Region," he said.
He also said the government is working with financial sector to provide banking services to the people of the area.
President Jammeh also told the gathering: "I saw several banners written on 'No election', but I can tell you election is good, because it shows who are supporting you or not."
The President also said that "election cannot decide my fate, but only the Almighty Allah."
Read Other Articles In Article (Archive)