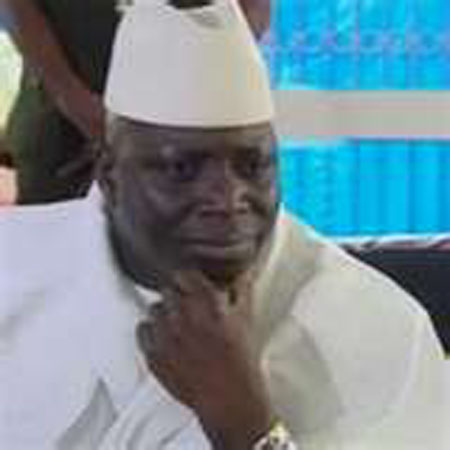 President Yahya Jammeh has said that he would not accept criminal activities in whatever nature in the country. The President made these remarks while speaking in an interview with GRTS recently.
During the interview, President Jammeh said that he had noticed an increase in brutal murders in the country. He warned: "Let them know that there is a death penalty in this country and I will not hesitate to set an example. Stabbing people to death, in fact killing human beings, is unacceptable. We will not tolerate crime of whatever nature, more so violent crimes," he stressed. He said that if the perpetrators think that they are not going to be executed for killing people, they are making a great mistake. "I will set an example. It's a country where there is zero tolerance for murder in whatever form." He went on to say that rape and human trafficking are also unacceptable.
President Jammeh also took the opportunity to emphasise his position on homosexuals, maintaining that the practice is odious and despicable. He described homosexuality as an insult to God and humanity as a whole. "When I made the pronouncement there was an international reaction, a rapid one for that matter, saying that am infringing on people's freedom. This is an evil freedom that I will not tolerate in this country. Those are the same countries that have banned the use and wearing of any religious symbol in public," he said. He expressed his disgust for what he termed the suppression of people's religious practice and sanctioning of what he called ungodly, inhuman and outrageous acts.
On a more pleasurable note, President Jammeh expressed his desire to transform The Gambia economically. "I want to prove to humanity that the smallest can be the best," he enthused, adding that the achievement of the objective requires collective efforts. He therefore called on Gambians to change their attitudes for national development and pride. "The type of country that I want to build cannot be built single-handedly," he stated.
Read Other Articles In Article (Archive)