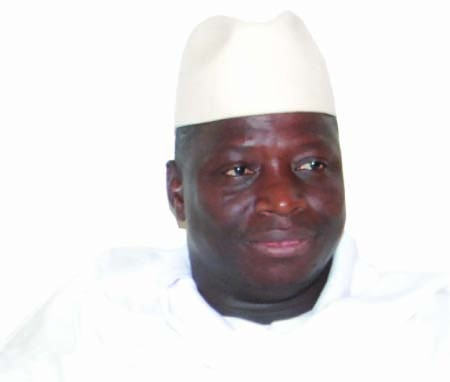 President Yahya Jammeh Monday returned to Banjul after a week long visit to Taiwan, his ninth to the Asian nation, seen as one of Gambia's best diplomatic allies.
The Gambian leader, who was met at Banjul International Airport by the Vice President, Speaker of the National Assembly, cabinet ministers among others, spoke well of the hospitality accorded to his high-powered 76-member delegation, including ministers and senior government officials.
Speaking to waiting journalists shortly after landing at the airport, President Jammeh described his trip as fruitful but tough one, because according to him, the Taiwanese make sure that he and his delegation were kept busy.
"We visited places and they also reciprocated to the letter the hospitality that was extended to them during President Ma's last visit to The Gambia," he stated.
"Wherever we went to in Taiwan, we were shown that we are welcome, which was not a pretentious welcome, because all the Gambian students were telling us the same story that they feel very much at home in Taiwan," he added.
According to him, he felt proud of the Gambian students in Taiwan "because wherever we went in Taiwan, not only did they behave extremely well, but also they are very competitive and serious in class."
"I was told by the foreign minister of Taiwan that when other students leave the hall or premises when they close from normal lectures, Gambian students do stay up to very late or early in the morning unlike students from other countries," he added.
This, he went on, shows the resilience of the Gambian students, not only they are in a foreign country but they also competing with home-based students; students of Taiwan.
He noted that Gambian students were definitely singled out as one of the most extra ordinary group they (Taiwan) have ever received, and for which they asked for more students to be sent to Taiwan.
Jammeh told journalists that among the students that graduated and were offered scholarship to pursue a higher degree, Gambians recorded the highest.
Trade and investment opportunity
On trade and investment, Jammeh said "whether we are looking forward to people or investors coming to The Gambia that is a different matter because the people have to decide for themselves."
What is important to him is that the ministers made it known to the Taiwanese what are the opportunities available in the country in terms of investments; what are the incentives, areas of priorities, among others.
"At the end of the day, the ministers gave them all the requisite information that an investor needs to be able to decide whether or not to invest in another country," he stated.
The Gambian leader further told journalists that all his government can do is to market the country, and it is up to the investor to really decide.
"But I hope that the Taiwanese by virtue of our relationship would come and invest in The Gambia," he said, adding that there are already some Taiwanese who have invested in The Gambia since 1997.
Read Other Articles In Article (Archive)