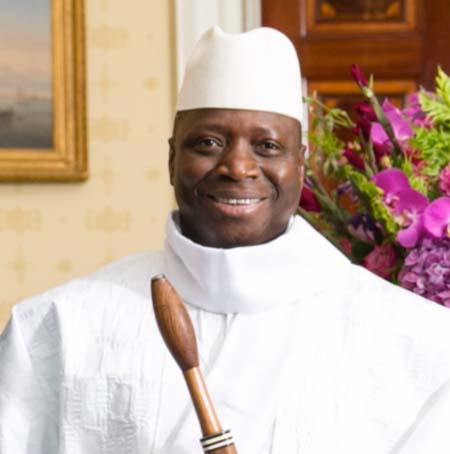 President Yahya Jammeh has promised to make university education in The Gambia free, come 2018.
All non-Gambians including children of foreign diplomats will also be allowed to benefit from the free university education, the President declared, whilst delivering a speech yesterday at the National Assembly on the occasion of the State Opening of the New Legislative Year 2016.
The State Opening of a new legislative year is a constitutional requirement of the President, at least once in the year.
"My Government will also continue to work strenuously towards making university education free in 2018 as well as fulfillment of our desire for free Universal education for all our children," President Jammeh said, adding that the free education package will be enjoyed by only students in government schools, not private learning institutions.
"As we begin the implementation of the new education sector policy, 2016 to 2030, renewed emphasis is being put on Technical and Vocational Education which cuts across the education sector from Basic and Secondary to the Tertiary and Higher Education with entrepreneurship as a key element," the president said.
He added that to support the implementation of the new Education Sector Policy 2016 to 2030, a Basic Secondary Education Bill, a University of The Gambia Bill and a Tertiary Education Bill aimed at revising the current Education Act will be tabled at the National Assembly for consideration before the end of the 2016 legislative year.
Speaking on finance and economic affairs, President Jammeh said that following the sluggish growth of the economy in 2015, the year 2016 is expected to perform much better.
"The growth is mainly attributed to a rebound both from the agricultural sector and the tourism sub-sector following the delayed rainfall and the spillover effect from the regional Ebola crisis respectively. The Economy is anticipated to grow at 4.7 per cent in 2016 compared to 0.9% in 2014," he said.
He added that his government would continue to pursue its cardinal objectives of accelerating growth and creation of more employment opportunities through PAGE – Programme for Accelerated Growth and Employment, whose implementation ends this year. But it will be succeeded by another programme in 2017 to consolidate poverty eradication through economic growth and creation of job opportunities.
The President said Trade Ministry, as part of its mandate  to promote and facilitate  trade, private investment, industrial development and employment, will continue to pursue measures designed to improve the business environment, promote investment and the development of enterprises through projects and programmes under its purview with a view to contribute to economic growth and employment.
Talking about labour and wages, President Jammeh said: "Furthermore, the Labour Act 2007, Factories Act and Injuries Compensation Act are all earmarked for review in 2016 to ensure that national labour legislations are consistent with international standards and best practices. A minimum wage and occupational health safety regulations are also being developed and are expected to be completed before the end of 2016."
He also dilated on agriculture, natural resources and the environment, saying these sectors hold the key to the success of the nation.
"We will focus on innovative ways of food production in order to derive maximum yields," he said, adding that a Forestry Bill will be tabled before the National Assembly this year.
On health and social welfare, President Jammeh said the Ministry of Health and Social Welfare will in 2016 construct 30 new outreach clinics to minimize distance of travel to access healthcare thereby scaling up the achievements made through the expansion of Primary Healthcare circuits from 83 to 123 and Primary Health Care key villages from 696 to 838 in 2016.
President Jammeh also said that in the area of foreign policy and international relations, his Government "remains relentless in its subscription to the principles of good-neighbourliness, non-interference in the internal affairs of nations and the legal equality of nations irrespective of demographic and economic size".
He added: "Our upholding of these principles relates to our firm and unshakeable commitment to the values of justice, fair play, peace and security as well as mutual respect for the identity, dignity and sovereignty of nations regardless of racial and religious affiliation. In this respect, my Government will not hesitate to stand up against injustice, racism, terrorism and crimes against humanity."
The President also promised to table a UN General Assembly Resolution on Slavery and Colonialism to declare "these barbaric chapters in human history as crime against humanity and for the nations that perpetrated these crimes to be obligated to reparations and unconditional apologies".
President Jammeh said further that The Gambia will remain for good an Islamic state, hence "a bill is going to be tabled" on the matter.
"Islam is a religion of tolerance, love and peace," he said, adding that Gambians are true Muslims, who embody Islam and will continue to live in peace with non-Muslims. "We will respect their religions and their beliefs," he added.
He condemned Boko Haram, Al Qaeda, the Islamic State (IS), saying these groups are tarnishing the name of Islam by killing people.
On homosexuality, President Jammeh said: "For homosexual, it is ungodly, and I will never tolerate it here in The Gambia. Those who will be caught practicing it will face the full force of the law."
Jammeh also said the West should stop double standards. He added: "After stealing the resources of Africa you want impose your own policy."
He called on the West to leave Africa and Asia alone, as the Western countries talk about democracy and human rights and call African leaders dictators.
"Yes we are dictators who defend what is good for our countries since we are elected by our people," he said, adding: "I oppose France's intervention in Mali, as the French troops went there without the approval of the AU or ECOWAS." 
Read Other Articles In Article (Archive)