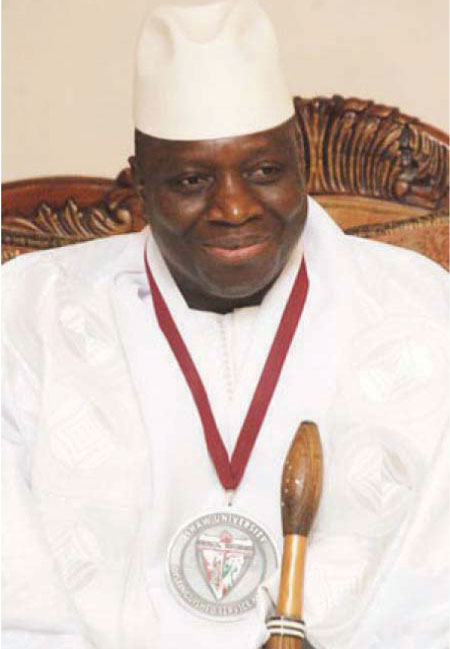 President Yahya Jammeh has used his 48th independence anniversary address, and promised a brighter future for Gambians, particularly the children, stressing that he would rather die than see them drop out of school.
"You the children of The Gambia must know that I would rather die than see you in refugee camp; I would rather die than see you in the streets; I would rather die than see you drop out of school," Jammeh said in his address marking the 48th independence anniversary, celebrated Monday at 22nd July Square in Banjul.
"That is why education is dear to my heart; that is why for you, the Gambian children, the sky is very close, the outer space will be the limit," Jammeh told the gathering graced by President Macky Sall of Senegal and Theodore Obiang Nguema, Ivorian Prime Minister Daniel Kablan Duncan, among other foreign dignitaries.
"As long as you are serious, my policy is not whom you know, but what you know; my policy is not what tribe you belong to, but how well you are ready to perform; my policy is not which village you come from; my policy is how dedicated you are to national development," he stated.
On the current situation facing the African continent, Jammeh called for unity and working together to take Africa out of poverty.
"If Africa is to get rid of the shackles of abject poverty, this is what we must do; unite and work together. Africa is the richest continent in terms of mineral resources, but in economic and real financial terms, we are the poorest of the poor," he stated.
"Why? Because instead of working together, working for each other, we are working against each other for external influences. Instead of building peace and economic development, we are building military arsenals, attacking one another and killing ourselves," the Gambian leader opined.
According to President Jammeh, instead of sending our children to school or our women to school and offices, unfortunately the story of the African child is the refugee camp; the story of the African woman is destitution in a refugee camp.
"The Almighty Allah," he added, "will not come down to stop this; we the African leaders should stop this carnage. "
"As we fight, our resources go outside of the African continent; as we get poorer, forces outside the African continent get richer; as our children spend all their lives in refugee camps, some at the age of nine are being taught how to hate and kill, while in other parts of the world, our resources are being used to educate children for a brighter future," he further opined.
He further stated that without education, Africa will never get out of poverty because our biggest disease today is ignorance, which cannot be eradicated by any political philosophy, but through education.
"My dear brothers, let us work together; let us stop the carnage in Africa; unless we stop the war, then Africa and our children would live a dignified life in the near future," he added.
In his view, there can only be two tribes in The Gambia and in Africa and the whole world. "What are those tribes? The good people and the bad people; for the bad people, there will be no compromise."
He went on to thank the students, parents, teachers, principals, voluntary organizations, cultural groups and the organizing committee for a wonderful and massive turnout.
Read Other Articles In Article (Archive)