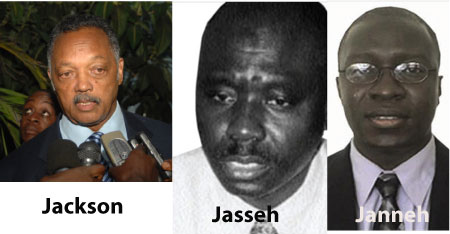 President Yahya Jammeh has granted a presidential pardon to former information minister, Amadou Scatred Janneh, and former director-general of Immigration, Tamsir Jasseh, who were jailed for treason.
News of Janneh's and Jasseh's pardon came shortly after Jammeh held talks with visiting American civil rights leader Rev. Jesse Jackson Snr, who arrived in Banjul on Sunday.
According to our presidential affairs correspondent, President Jammeh has also offered to pay for the air tickets for both Janneh and Jasseh, who are also American citizens, to fly back to America with Jesse Jackson Snr.
The move was said to be based on Jammeh's personal relationship with Jackson.
Shortly after holding talks with the Gambian leader, Jesse Jackson Snr told waiting reporters that the two will be flying out of Banjul to the US today Tuesday.
"We appealed to the President to let them go, and he has agreed to release the two Americans and they will leave here tomorrow (Tuesday); they will be with us on the President's mercy, and on his grace they have been allowed to go," Jackson announced.
"I hope they will be appreciative of all these gestures by the President; he didn't have to do it, he chose to do it and I hope they and their families will be grateful," he added.
On the issue of the recent executions, Jackson told journalists "We appealed to the President to please extend the moratorium on the executions to spare their lives. We respect the sovereignty of The Gambia but such an act like continuing executions would be hurtful."
On the issue of journalist Chief Manneh, who went missing since July 2006, Jackson said: "There is another case of a missing journalist that has been raised all over and again. He (Jammeh) said if the UN chose to pursue an investigation, they are free to do so.
"There was a very good meeting today with the President, and we look forward to an ongoing and continuing relationship with this country and this leadership."
It would be recalled that Amadou Janneh was in January this year convicted and sentenced by the special criminal court in Banjul to life imprisonment, after he was found guilty of treason.
Tamsir Jasseh on the other hand was in 2006 convicted and sentenced to 20 years in prison for his alleged role in the March 2006 abortive coup attempt allegedly masterminded by former chief of defence staff, colonel Ndure Cham.
Read Other Articles In Article (Archive)